Brewers: 3 Changes Craig Counsell Can Make To Fix The Brewers Right Now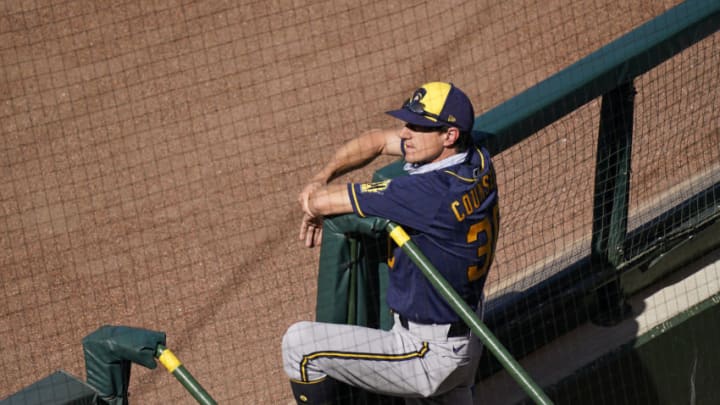 CHICAGO, ILLINOIS - AUGUST 16: Manager Craig Counsell #30 of the Milwaukee Brewers stands in the dugout during the seventh inning of a game against the Chicago Cubs at Wrigley Field on August 16, 2020 in Chicago, Illinois. (Photo by Nuccio DiNuzzo/Getty Images) /
The Brewers are sitting at 11-15 and need some serious changes to turn things around.
Not all of the Brewers struggles so far can be blamed on Craig Counsell. It's not his fault Christian Yelich got off to a slow start and has struggled to get back to his 2018 and 2019 self. It's not his fault that his star centerfielder, Lorenzo Cain, opted out of the season.
It's almost been a snowball effect on the Brewers the last couple of weeks. Once something bad happens to them, it tends to snowball into a much bigger problem very quickly. When Yelich started off in a slump, so did pretty much every veteran hitter on this team. The offense revolves around Yelich and it simply did not work without him.
However, this isn't entirely out of Craig Counsell's control, after all, he is the manager. He can't make the plays or get the hits, but he can put guys in the best position to help the team and put the team in the best possible position to win.
Right now, things aren't working for them, and some changes need to be made. Let's take a look at some possible changes Counsell could make.
Change No. 1: Put Luis Urias In The Leadoff Spot
This seems so obvious. Ever since Cain opted out, the Brewers have lacked a consistent offensive threat at the top of the lineup ahead of Christian Yelich. Counsell has tried Avisail Garcia, Ryan Braun, Eric Sogard, Omar Narvaez, Ryon Healy, and others to fill this spot and none of them have been able to produce.
Here's a novel idea: Let's put one of the hottest hitters this team has up there and get him as many ABs as possible. Since being called up, Luis Urias is hitting .297/.366/.378 with four RBIs, three walks, and just six strikeouts.
Urias is a prototypical leadoff hitter with great contact ability, on-base ability, and speed. He's profiled as a leadoff guy all through his minor league career and through his first 37 ABs, he has shown nothing that would lead the Brewers to believe otherwise.
Urias has the best batting average and on-base percentage on the team right now. Why is he hitting at the bottom of the lineup? Why isn't he leading off?
Why is Counsell running 36 year old Ryan Braun out there batting leadoff? Why is 250 pound Avisail Garcia leading off? Forget the gimmicks and put Urias where he belongs at the top of the order.
Change No. 2: Stop Hiding Manny Pina
In more limited playing time, Manny Pina has been able to provide an offensive boost to this lineup. In nearly 40 ABs, Pina has a .231/.318/.410 slash line with a 96 OPS+. In nearly 50 ABs for Omar Narvaez, he's hitting .151/.286/.189 with an OPS+ of 17. He just ended an 0-for-19 stretch at the plate.
I get that Counsell wants to give Narvaez the ABs to get going, but at some point you have to play the hot hand and help the Brewers win some games. Getting Narvaez going may help them win games later on in the season, but at that point it may not matter the way this team is playing. They could be too far out of the race if things keep going like this.
Pina is far superior on the defensive side as well and right now, he's superior offensively. This team needs offense and so far Pina is the one providing it from the catcher position.
Change No. 3: Use Josh Hader
We're 26 games into the season so far. Josh Hader has been used in a grand total of seven games. For comparison's sake, Brandon Woodruff has already started six games.
Hader is pitching just about as often as a starting pitcher, yet he's only going for one inning at a time basically every fourth or fifth day. Continually, in situations that we've normally seen Hader come in in the past, he is not being used this season. Why is that? The whole point of keeping Hader in the bullpen was so that he could be used more often than as a starter and pitch in more games.
Why isn't Hader pitching multiple innings like he has in the past? Counsell points to the shortened ramp up period that pitchers had with only three weeks of Summer Camp instead of the usual six weeks at spring training, but that doesn't fly anymore. We're a whole month into the season now. It's been seven weeks since Summer Camp started. If he's not fully ramped up and ready by now, why is that?
If there's an arm injury or potential for one that they're concerned about, put him on the IL and protect your superstar reliever. Protect your investment. If there's nothing wrong with him, let Hader pitch. He should be fully ramped up at this point. He's had more than six weeks since Camp started so let him loose. If you have reason to believe he's not capable of that, place him on the IL.
After an abysmal showing in Minnesota and Pittsburgh, the Brewers need to make some changes. If Craig Counsell institutes these changes, things should improve over the next few days and weeks.
There are some other changes that might be necessary, but those are up to GM David Stearns. Right now, he finds himself in quite a pickle with the Trade Deadline just about a week away.