Brewers: 3 Prospects Who Might Get Dealt At The Trade Deadline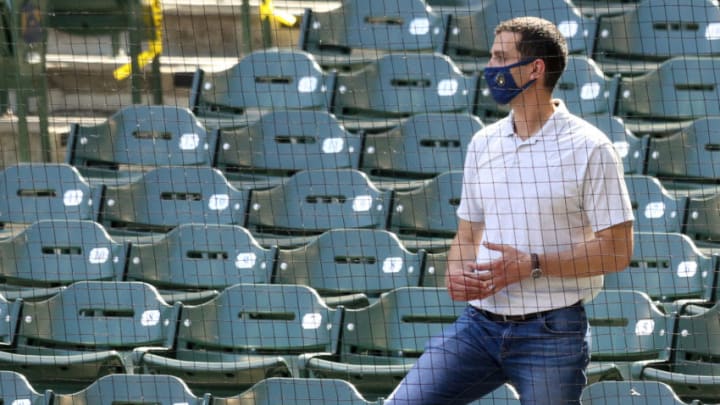 MILWAUKEE, WISCONSIN - JULY 04: General manager David Stearns of the Milwaukee Brewers looks on during summer workouts at Miller Park on July 04, 2020 in Milwaukee, Wisconsin. (Photo by Dylan Buell/Getty Images) /
MILWAUKEE, WISCONSIN – JULY 04: General manager David Stearns of the Milwaukee Brewers looks on during summer workouts at Miller Park on July 04, 2020 in Milwaukee, Wisconsin. (Photo by Dylan Buell/Getty Images) /
The Brewers might be buyers at the trade deadline this year, and that means some prospects might be on the move.
It's been such a weird season for the Milwaukee Brewers in 2020. Things started off weird for everyone, but the Brewers have seen almost every veteran bat underperform this year, although they're still sticking around the expanded playoff race.
The 2020 MLB Trade Deadline is just a few days away, and GM David Stearns is going to have to make a decision fairly soon on whether he's going to buy, sell, or stand pat.
The pair of wins against the Reds earlier in the week helped boost the Crew's playoff chances back above 50% and staved off thoughts about throwing in the towel this season that surfaced after a sweep by the Pirates. Should the Brewers continue to win in the next few days, the Brewers will firmly be in the buyer's camp.
That means prospects will be on the move from the Brewers instead of veterans from the big league roster.
Trades this year could look a lot different than normal deadlines, simply because there are no minor leagues this year and other teams' scouts can't go to MLB games or alternate training sites because of the pandemic restrictions.
Plus, there's only going to be 20-some games remaining in a season that's still not guaranteed to finish. Teams have only seen about 30 games from their current roster and typically, that's not a point where GMs look to make major changes or can even judge their roster appropriately. That's going to make the results of this trade deadline very interesting to watch unfold.
Blockbuster deals are unlikely. Salary dump trades are also going to be unlikely. Teams across the league are cutting staff and staff salaries due to money shortages from not having fans this year so justifying taking on millions of dollars in salary for a veteran player that's clearly not performing up to his salary level would not go over well.
Teams can only trade players from their 60 man player pool, which makes it a little easier to know who could be available and a trade target. However, teams can include a player to be named later who isn't a part of the 60 man in the trade. So it's not a strict limit, but in terms of immediate names, only 60 man roster guys can be traded.
Should the Brewers decide to part with some prospects, here are some of the most likely choices.