Brewers Video: Luis Urias Faceplants Giving Eric Sogard Gatorade Bath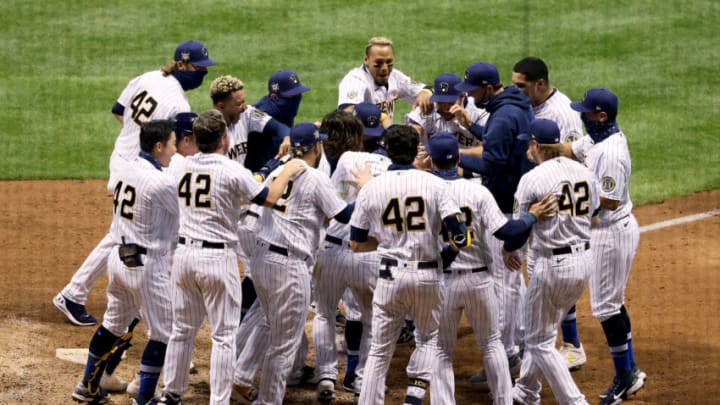 MILWAUKEE, WISCONSIN - AUGUST 29: The Milwaukee Brewers celebrate as Eric Sogard #42 hit a home run to beat the Pittsburgh Pirates 7-6 in the ninth inning at Miller Park on August 29, 2020 in Milwaukee, Wisconsin. All players are wearing #42 in honor of Jackie Robinson Day. The day honoring Jackie Robinson, traditionally held on April 15, was rescheduled due to the COVID-19 pandemic. (Photo by Dylan Buell/Getty Images) /
In a wild ninth inning, the most memorable moment of the night came after the Brewers walked off with the victory.
After the Brewers rallied in the 8th inning to take a 5-4 lead over the Pirates, Josh Hader completely lost the strike zone in the 9th inning.
He walked five batters, walked in two runs, and gave the Pirates a 6-5 lead. Things were looking bleak.
But then, none other than Eric Sogard, who draws almost daily ire from Brewers fans on Twitter, comes through with a walk off two run homer to win the game in the bottom of the ninth!
It was a huge moment that the Brewers desperately needed, and Eric Sogard came through. What happened afterward is almost the bigger story. After the walkoff homer, naturally, the Brewers decided to give Sogard a Gatorade bath. The execution, well, could have gone better.
Video: Luis Urias Falls Giving Gatorade Bath
Just take a look at this. Head to the :40 second mark.
Luis Urias was a little too eager and jumped a little too early, dumping the Gatorade on Sogard's lower back and then his foot slipped on the on-deck circle and he just face-planted on the ground. Luckily he wasn't hurt, but his ego might be bruised a little bit.
That had to be the biggest failed Gatorade bath I've ever seen. It's absolutely hilarious and I can't stop watching it.
A moment like this needs an official name. My nomination is: "The Gatorade Spill"
Take a look in GIF form.
Instead of giving a bath, Luis Urias took a spill. It will live forever in its glory. Don't be surprised if the Brewers have a crime scene body cut-out on the on-deck circle tomorrow.
Eric Sogard's reaction was such a dad move. He was just laughing and told Urias to "be careful" as he tried to run away and hide his shame. What else is there to say?
Brewers Twitter naturally fell in love with the moment and will be remembered just as the Hernan Perez walk out to centerfield to give a Gatorade bath in 2018 is. This will be remembered like Prince Fielder's bowling ball celebration.
The hilariousness of the moment just put a cherry on top of a wild game against the Pirates. The Brewers scored in both the 1st and 2nd innings, got a late lead, blew the lead, and won on a walkoff, then botched the Gatorade bath celebration.
The next time the Brewers hold Kangaroo Court, Luis Urias is going to face that video on repeat and a hefty fine for that botched Gatorade bath.