Brewers Sell At The Deadline, Trade David Phelps To Phillies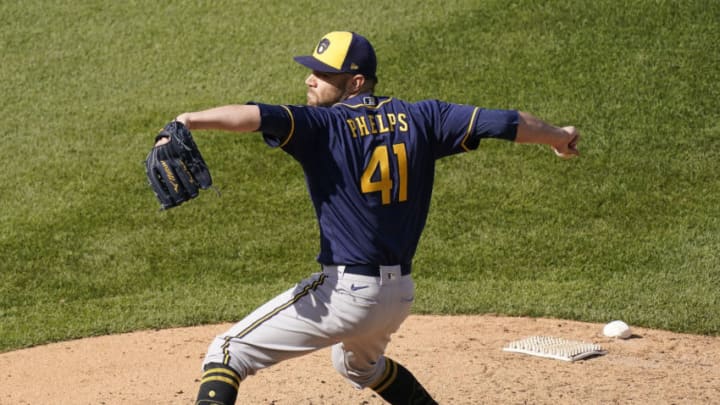 CHICAGO, ILLINOIS - AUGUST 16: David Phelps #41 of the Milwaukee Brewers throws a pitch during the eighth inning of a game against the Chicago Cubs at Wrigley Field on August 16, 2020 in Chicago, Illinois. (Photo by Nuccio DiNuzzo/Getty Images) /
Sure enough, the Brewers and David Stearns made a trade ahead of the 2020 Trade Deadline.
After struggling through the first half of the season, Brewers GM David Stearns decided to sell off a veteran piece, sending David Phelps to the Philadelphia Phillies.
Ken Rosenthal was the first to report the news.
The Phillies have desperately needed some bullpen help and Phelps has had a strong 2020 season. He can improve that bullpen and lock down games for them going forward.
David Phelps Traded To Phillies
The big question is what is the return for Phelps? According to multiple reports, the Brewers are getting several prospects in return, with Jon Heyman reporting that three players will come back to Milwaukee.
Adam McCalvy reported that all three are low-level pitchers and that there are no bats or big league talent coming back.
With the return of three minor league arms, it's reminiscent of the Adam Lind trade back in 2015 when the Crew traded one year of Lind to the Mariners for three lottery ticket minor league arms, all of whom were teenagers. One of those lottery tickets contained a jackpot in Freddy Peralta.
For a 34 year old reliever that only has a few games under his belt this year and a club option for next year, that's a pretty decent return.
Adam McCalvy was first to report the names of those prospects. They are: 20 year old Brandon Ramey, 19 year old Israel Puello, and 19 year old Juan Geraldo.
Ramey was a 30th round pick in 2018 and had a strong 2019 season in Rookie ball, posting a 2.78 ERA in seven starts. Puello was an international signee in 2017 and spent last year in the Dominican Summer League where he dominated with a 1.92 ERA in 15 starts. Juan Geraldo was also part of that Phillies 2017 international class and was in Rookie ball as a reliever last year with a 3.96 ERA.
Phelps posted a 2.77 ERA in 12 games for the Brewers this year. He did a very good job as the setup man for Josh Hader. With the emergence of Devin Williams in a late inning role, Phelps became expendable. After the Brewers continued to struggle, trading Phelps made more and more sense and the Brewers can still have a strong back end of the bullpen that won't hinder their chances of competing too much.
This won't help them compete in 2020, but it won't hurt them either and Stearns adds a few more pitchers to the farm system. Can't complain too much about that.
The Brewers decided to sell at the deadline, and although it wasn't a huge sale, it served an important distinction of knowing where the Brewers think they're at.