Brewers Trade Deadline: Grading the David Phelps Deal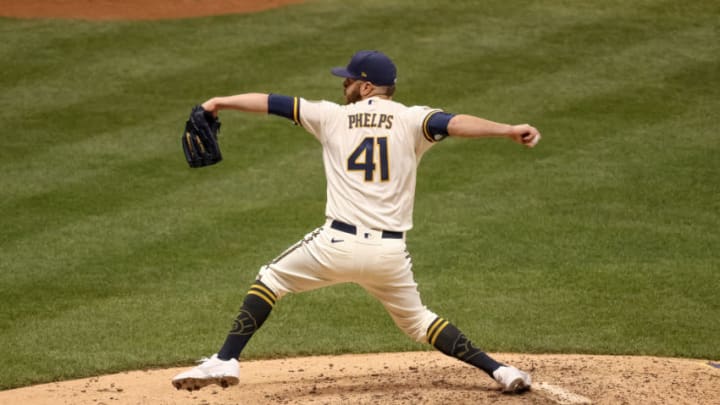 David Phelps, Milwaukee Brewers (Photo by Dylan Buell/Getty Images) /
The MLB trade deadline has passed and the Brewers made just a single move. Let's analyze and grade the trade that sent Phelps to Philadelphia.
In the days leading up to today's MLB trade deadline, the Milwaukee Brewers faced as many questions as the other teams in the league. Would they be buyers or sellers? Would any of the rumors surrounding Josh Hader come true? How about Orlando Arcia?
Now that the deadline has passed, we know the answers. Hader and Arcia remain Brewers and the team didn't end up adding anyone who will contribute toward this season's playoff push. They did, however, trade away one of their better bullpen arms in right-handed pitcher David Phelps, receiving three young arms in return.
Phelps was considered one of the more likely candidates to be traded by the Brewers should they have decided to sell, so the surprise level for this trade ends up pretty low. With the deed actually done, it's time to review the transaction and offer up its grade.
Why would the Brewers trade Phelps?
It's not as though Milwaukee traded Phelps because they decided they were out of playoff contention this season. Entering Monday, the Brewers found themselves just one game back of 2nd place in the NL Central game and a half out of the final Wild Card spot.
Phelps became one of the top late-game bullpen options for the Brewers early and had a 2.77 ERA over 13 innings of work with an outstanding ratio of 20 strikeouts to just two walks. Those numbers, combined with his ability to perform well in high-leverage situations made him an appealing trade target for playoff contenders.
While it's true that the Brewers could still have used him in their own playoff push, they have an extremely deep bullpen that ended up making him potentially expendable. Add the fact that Milwaukee was unlikely to pick up his 2021 contract option and a trade made plenty of sense.
Who did the Brewers get in return?
In trading away Phelps, the Brewers ended up adding a trio of solid young arms to their minor league system. None will be joining the big league club any time in the near future, but provide more young pitching depth that any team can use.
All three pitchers were early in their developmental stages for the Phillies. Juan Geraldo and Israel Puello were international signees for the organization back in 2017 while Brandon Ramey was a 30th round pick just a couple years ago in 2018.
Geraldo (3.96 ERA in 25 innings pitched) and Ramey (2.78 ERA in 22 2/3 IP) each pitched in the rookie level Gulf Coast League for Philadelphia last year and the two finished with similar strikeout numbers on the season (11.88 K/9 for Geraldo, 11.91 K/9 for Ramey).
Puello had a much heavier workload than the other two in 2019 pitching in the Dominican Summer League and had even more impressive numbers. He pitched to the tune of a 1.92 ERA over 65 2/3 innings, holding batters to a .190 batting average and striking out 11.38 batters per nine innings. He gave up more than two earned runs in just 2 of 15 outings last season.
Grading the Trade: B
In the end, the Brewers traded from a position of strength and received three solid pitching prospects in return. It doesn't add any pieces that will help Milwaukee this season, but it also doesn't make them overly worse considering their bullpen depth either.
Unloading a contract that the team wasn't going to pick up in 2021 for future arms that have a decent chance at providing future value gives this deal its 'B' grade just to start. If even one of these arms contributes down the road, much like Freddy Peralta did for the Brewers as a result of the Adam Lind trade back in 2015, the trade moves into 'A' territory.
On the surface, this looks like a solid, logical move for the Brewers, one that fans have become accustomed to during the David Stearns era. It also happened to be the sole move in a quiet trade deadline for Milwaukee.