Brewers: Corey Knebel Is Back And Better Than Ever, And Just In Time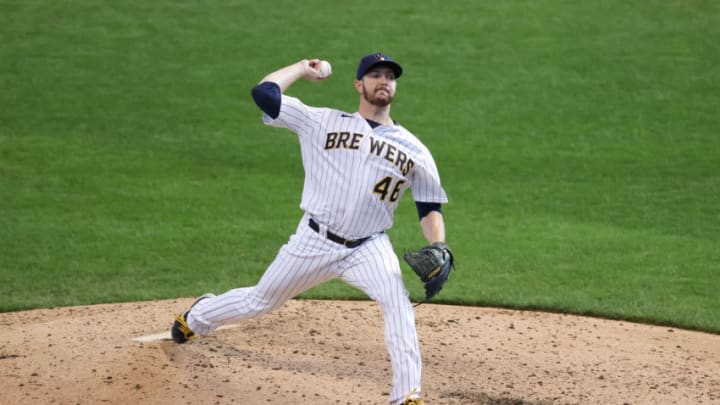 MILWAUKEE, WISCONSIN - SEPTEMBER 13: Corey Knebel #46 of the Milwaukee Brewers pitches in the seventh inning against the Chicago Cubs at Miller Park on September 13, 2020 in Milwaukee, Wisconsin. (Photo by Dylan Buell/Getty Images) /
The Milwaukee Brewers appear to have found the elite version of Corey Knebel once again, and just in the nick of time.
If Corey Knebel looks a little bit different to you than the earlier version of him, then you're absolutely right, and we're not just talking about the beard that the typically clean-shaven Brewers reliever is now sporting.
In Knebel's first season back from the Tommy John surgery he underwent last spring, it's taken him a while to get back to his old self. Earlier this year, Knebel's fastball was sitting in the 93-94 MPH range which is a huge drop from his typical 97-98 MPH range.
The lack of extra velocity on his mostly straight fastball led to struggles in his first few appearances. His ERA was up to 9.45 by the time he was placed on the IL with a hamstring strain in mid-August.
It had become clear that Knebel still needed more time to get himself back up to speed after a major surgery. Through his first three appearances following his return from the IL, Knebel appears to be back up to speed.
Knebel Making Improvements
His two inning performance on Wednesday night showcased a huge step in the right direction for Knebel. His fastball was hitting 97 MPH, which is something he hadn't done all season prior to his IL stint, he got all six outs via the strikeout, and he also threw a couple of changeups as well, adding to his arsenal.
Throughout his career, Knebel has been known as a guy with a power fastball and a beautiful 12-6 curveball. Those were his only two pitches that he used in games, and as a reliever, that was all he needed. After all, he rode that combination to plenty of success over his career.
But now he has added a changeup to the mix, which gives hitters just another thing to watch out for and think about.
Knebel has also struggled with command this year, allowing 4.2 BB/9, but of his 29 pitches thrown on Wednesday, 20 of them were for strikes. He's only allowed one walk in his three appearances since his return.
There's a lot to like about this new and improved Knebel. He's throwing 97 again, he's got command again, and he's added a changeup to the pitch mix.
The Brewers bullpen is a very strong group already with flamethrowers Josh Hader, Devin Williams, and Drew Rasmussen already back there and pitching well. Now with a renewed Knebel joining them, that gives Craig Counsell four very strong options late in games. This version of Knebel will help offset the trade loss of David Phelps, who was a primary setup man for Hader before his departure.
The pitching is very strong for this Brewers team, and the only thing holding them back from a playoff run is the offense, which came alive on Wednesday, but will need to continue to do so.