Brewers Vs. Dodgers NL Wild Card: Start Time, TV Info, Live Stream, And More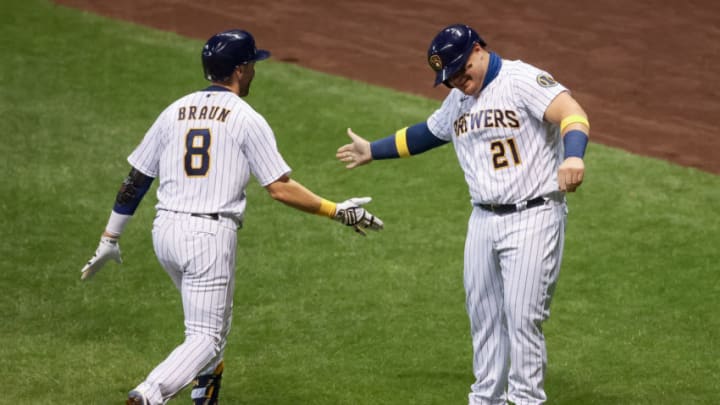 Ryan Braun and Daniel Vogelbach, Milwaukee Brewers (Photo by Dylan Buell/Getty Images) /
The NL Wild Card Series between the Milwaukee Brewers and Los Angeles Dodgers gets started Wednesday night. Here's all the info you need to know.
The Milwaukee Brewers snuck their way into the postseason despite never really impressing all season long thanks to MLB's decision to expand the playoffs to 16 teams this year and the late-season struggles of the Giants and Phillies. The Crew's 29-31 record means they're the first team in NL history to make the playoffs with a sub-.500 record.
Meanwhile, the Los Angeles Dodgers had the best record in baseball pretty much all season long, finishing with a 43-17 record and are the current Las Vegas favorites to win the World Series.
This will be a best two-out-of-three series with all three possible games being played in Dodger Stadium in L.A.
Brewers-Dodgers NL Wild Card Game 1: Start Time, TV Info, Probable Starters
Game 1 of the series will be played on Wednesday, September 30th at Dodger Stadium.
First Pitch: 9:08 PM CT
TV Channel: ESPN
Broadcasters: Karl Ravech, Eduardo Perez, Tim Kurkjian, Alden Gonzalez
Radio: 620 WTMJ, Brewers Radio Network, ESPN Radio, Dodgers AM 570
Live Stream: MLB.TV, Watch ESPN
Probable Starters: Brent Suter (2-0, 3.13 ERA) vs. Walker Buehler (1-0, 3.44 ERA)
Brent Suter starts Game 1 for the Brewers after Corbin Burnes left his last regular season start with an oblique injury that will cost him at least the first two rounds of the playoffs. Suter has started four games for the Brewers this year and has done so with some solid success. While Suter doesn't normally work deep into ballgames, he's capable of giving them five good innings.
Walker Buehler has made eight starts this year, battling a few minor injuries throughout the year but still performing as good as always for the Dodgers this year.
The Brewers lineup has struggled to put up runs throughout the year, but for whatever reason have had decent success against frontline starters while struggling against lower-tier pitching. Getting to Buehler early will be key for the Brewers to succeed.
Wednesday will see eight postseason games played across MLB's schedule and the Brewers-Dodgers matchup will be the final game of the day.
The Brewers will also be without star reliever Devin Williams, who just came down with a shoulder injury. He's been a rock for the Brewers bullpen all season, having not allowed an earned run since July 27th. Meanwhile, the Dodgers will enter this series practically at full strength, having only recently lost Caleb Ferguson to TJS.
Game 1 is going to set the tone for the series as the winner will be able to clinch if they win the next game on Thursday night.