Brewers: Five Most Likely Candidates to Be Non-Tendered This Offseason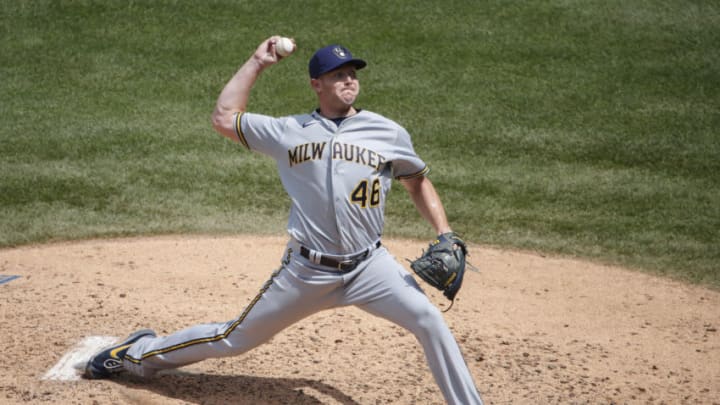 Corey Knebel, Milwaukee Brewers Mandatory Credit: Kamil Krzaczynski-USA TODAY Sports /
Alex Claudio, Milwaukee Brewers Mandatory Credit: David Richard-USA TODAY Sports /
LHP Alex Claudio
The Brewers find themselves in familiar territory when it comes to Alex Claudio this offseason, both in terms of his performance from 2020 compared to 2019 as well as his arbitration situation with the team.
Claudio was a workhorse for Milwaukee during the 2019 season, leading the league with 83 relief apperances. Still, they deemed a projected raise from $1.275MM to $2.2MM to be a bit much for a non-dominant reliever with a 4.06 ERA (4.92 FIP) and he was ultimately non-tendered by the team.
Milwaukee would bring him back at a discount, though, signing him to a one-year, $1.75MM contract. While Claudio didn't lead the team in appearances again in 2020, he still got plenty of playing time for the Brewers, putting up similar numbers to 2019.
In 20 games, Claudio's ERA jumped up a tad to 4.26, though his FIP dropped to 4.09. His WHIP also decreased a bit from year to year (1.306 to 1.263) and he showed few ill effects from the three batter minimum rule that many thought might affect him greatly last season.
Though his numbers weren't terrible, they didn't blow you away either. It's entirely likely that the Brewers attempt the same move with him that they did last offseason. Even with lefty relievers being hot commodities, there's a good chance it works out in Milwaukee's favor yet again.
UTIL Jace Peterson
There wasn't much bigger of a statistical oddity than Jace Peterson when it came to the 2020 Milwaukee Brewers. The midseason addition to the 40-man did one thing extremely well and that was get on base.
Peterson was second on the team with a .393 on base percentage, trailing just fellow midseason addition Daniel Vogelbach. He achieved that goal primarily through his propensity to draw the walk as he led all Brewers with a 24.6% walk rate.
That's pretty much where the good news ends. Peterson finished the season going just 9 for 45 at the plate (.200) with just three of those hits going for extra bases. And though he led the team in walk rate, he also happened to have the third worst strikeout rate on the team as well (32.8%).
While the high on base percentage was nice and all, it's an outlier when you look at his career performance. His highest mark prior to 2020 was a .350 OBP in 2016 with the Braves and his career OBP sits at just .317 even with last season factored in.
Peterson has the lowest projected arbitration number for the Brewers at a range of just $700k to $900k. So purely based on money, the Brewers could make the choice to hold on to him in 2021, at least to start.
But Milwaukee has a younger player with a similar skill set in Mark Mathias and a so far untapped resource in Billy McKinney, who was acquired late in 2020 and is on the 40-man roster. Both are pre-arbitration and are even cheaper. All of that could spell the end for Peterson.