Brewers: 3 Dark Horse Prospects to be Protected From the Rule 5 Draft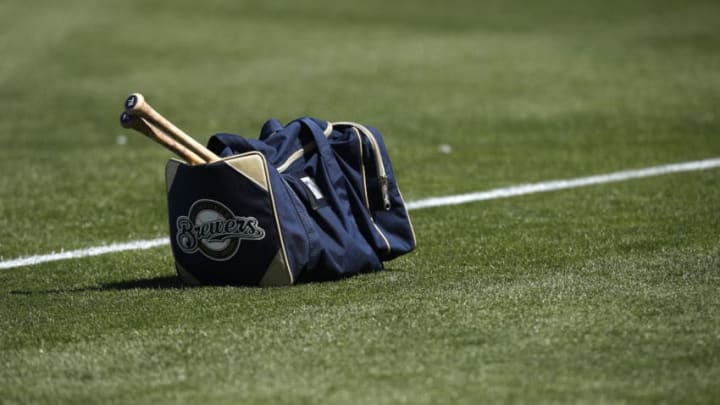 (Photo by Mike McGinnis/Getty Images) /
The deadline to protect minor leaguers from the Rule 5 draft is next week. Here are three lesser-known prospects the Brewers could add to the roster.
A key deadline in the MLB offseason takes place next week, the deadline in to protect eligible players from the Rule 5 draft. Players that teams like the Brewers don't want to leave exposed to the draft must be added to the 40-man roster by that date.
Much of the questioning about who teams will protect from the Rule 5 draft ends up revolving around players currently on their Top 30 Prospects lists, such as the one at MLB Pipeline. We've previously discussed those prospects' chances in an earlier piece.
But there also happen to be prospects outside of the top 30 lists that could make some sense for the Brewers to keep from being exposed to the Rule 5 draft. Here are three of them who are dark horses to be added to Milwaukee's 40-man roster before the November 20th deadline.
1B Chad Spanberger
You'd be forgiven if you forgot about the Brewers' acquisition of Chad Spanberger from just over a year ago. He came to the Brewers last November in the trade that sent starter Chase Anderson to the Blue Jays, but due to the cancellation of the 2020 minor league season, he hasn't played a game in the Milwaukee organization yet.
Spanberger has a solid career slash line in the minors (.274/.340/.501), though it took a bit of a dip in his last minor league season at Double-A in 2019 (.237/.308/.399). He is a bit of a free swinger at the plate with 293 strikeouts to 105 walks over 305 games, but his 59 homers in the minors show he has some pop the team could use.
Spanberger had a hot start to 2020 Spring Training before things got shut down, which could give the Brewers reason to consider protecting him. Considering the lack of depth at first base in the organization and the fact they traded a proven starter for him, he could be a sneaky add.
RHP Luke Barker
When you look at the top pitching prospects in the Brewers' organization, very few of them are close to MLB-ready. Luke Barker is not only closer to the major leagues, but his numbers show he could find some early success there.
Barker spent 2019 splitting time between Double-A Biloxi and Triple-A San Antonio and was very good for both teams. He ended up finishing the season with a combined 1.34 ERA, 0.646 WHIP, and 66 strikeouts to just 15 walks over 60 1/3 innings pitched.
While the Brewers could already have a scary bullpen next year, that crew could take a hit if players like Corey Knebel or Alex Claudio are non-tendered or if Josh Hader is traded. In that case, an MLB-ready player like Barker could be nice to have on the 40-man roster.
LHP Quintin Torres-Costa
It's already hard enough to evaluate whether to commit to Minor League players who haven't played in a Minor League game since 2019. It's even harder to evaluate a player like Quintin Torres-Costa whose most recent full season was in 2018.
Torres-Costa missed nearly all of the 2019 season after undergoing Tommy John surgery. This was after a very solid 2018 that saw him compile a 1.31 ERA and 0.945 WHIP over 43 games between Double-A and Triple-A. He also saw some action at 2019 Arizona Fall League, giving up an earned run over nine outings.
Like Barker, Torres-Costa was close to cracking the bigs in 2018 before his injury. Also like Barker, he could be a useful asset for the Brewers, particularly if they decide to move on from any of the current lefties in their bullpen.
These are just a few of the lesser-known minor leaguers who could be added to the 40-man roster before next Friday's deadline. We'll see who the Brewers ultimately protect next week.