Brewers: Will Alex Claudio Be Non-Tendered for Second Straight Year?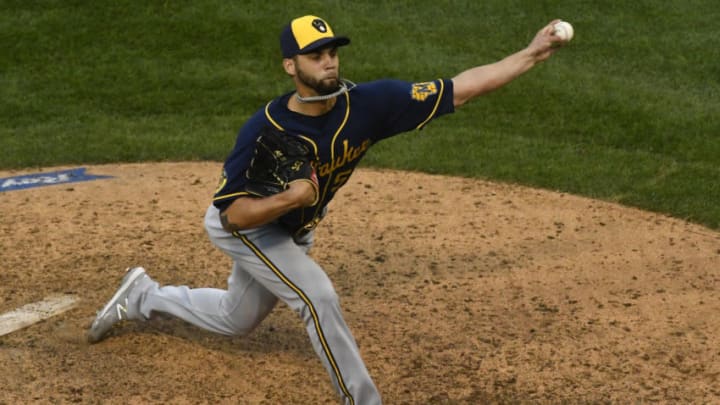 Alex Claudio, Milwaukee Brewers Mandatory Credit: Matt Marton-USA TODAY Sports /
The left-handed reliever was non-tendered last offseason before ultimately being brought back by the Brewers for 2020.
Of the many rule changes that MLB implemented for the 2020 season, arguably the most maligned by Brewers fans was the three batter minimum rule. With the way manager Craig Counsell managers his bullpen, fans expected it to have a pretty negative effect on the team.
In the end, Counsell was able to navigate the rule just fine and the Brewer bullpen performed rather admirably in 2020. Even the pitcher many fans had the most reservations about with regards to the new rule, left-hander Alex Claudio, didn't end up suffering a drop in production.
Claudio did see his ERA rise just a tad from 4.06 in 2019 to 4.29 last season. But he also saw improvements from year to year in FIP, WHIP, home runs per nine, walks per nine, and strikeouts per nine, among other categories.
While Claudio's numbers didn't take a dip on account of the new rule, they weren't exactly off-the-charts spectacular either. Last offseason that resulted in Claudio being non-tendered before the team later signed him to a cheaper contract. Could he be in for a repeat of that this offseason?
With the Brewers needing to save money wherever possible, it would make sense to non-tender Alex Claudio with an attempt to re-sign afterward.
Let's take a look back to last offseason. Claudio was projected a raise from the $1.275MM he made in 2019 to around $2.2MM in 2020. The Brewers opted to non-tender the reliever but still brought him back as a free agent right after for the lower price of $1.75MM.
Now, Claudio and the Brewers are in a similar position with the lefty projected for a raise of $2.0MM to $2.3MM. If Milwaukee couldn't justify paying him that last offseason, what's to say they'll all of a sudden do it this offseason?
Claudio is still just 28-years-old and as one of just three lefties in the bullpen, along with Josh Hader and Brent Suter, he remains a valuable tool out of the bullpen, even if his numbers don't look like those of his harder throwing counterparts.
But the Brewers almost certainly brought Claudio in two years ago hoping that he would rediscover the magic from his 2014 to 2017 seasons with the Rangers when he had sub-4.00 ERAs each year. So far that hasn't proven to be the case.
While Claudio has been mostly effective in his role as a Brewer, he hasn't been so irreplaceable as to guarantee a contract before this week's tender deadline. Even though the savings would be minimal this time, expect Milwaukee to make the same non-tender decision with him that they did last offseason.
The MLB non-tender deadline is just two days away. Even if Alex Claudio is non-tendered that day, don't count out the possibility of him returning to the Brewers shortly after once again.