Brewers Rumors: Marcus Semien Nearing Decision, Brewers In Mix?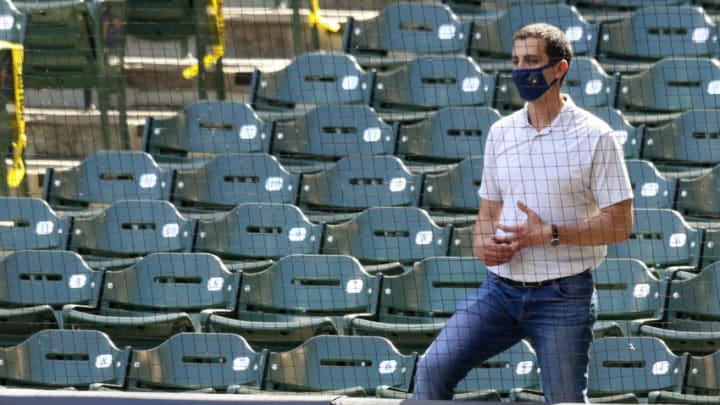 David Stearns, Milwaukee Brewers (Photo by Dylan Buell/Getty Images) /
The free agency rumor mill for the Brewers has become active once again today. According to Darren Wolfson, a contributor/host for SKOR North, free agent Marcus Semien is moving closer to a decision on where his next landing spot will be.
According to Wolfson the two known teams in talks with Semien are the Twins and the Brewers.
Semien would be a perfect solution for the Brewers who are still looking for a solid infielder who can be a good bat in the lineup. Although Semien is primarily a shortstop he could end up playing third for the Brewers since they already have a shortstop in Orlando Arcia. The Brewers lacked production from their two corner infield spots last season and Semien could be the answer they are looking for.
Like most players in the 2020 season, last year was a down year for Semien only having a batting average of .223. However, in the full season of 2019, Semien finished with a batting average of .285, hitting 33 home runs, an OPS of .892 and he finished 3rd in the AL MVP vote.
Semien was also a reliable fielder, only committing 12 errors and having a fielding percentage of .981. The biggest takeaway from that 2019 season was that he did not miss a single game, playing in all 162 games. Having a player like Semien in the Brewers lineup could be all they need to win a weak NL Central in the 2021 season.
If the Brewers and David Stearns are to sign Semien, look for it to be a similar deal like the Yasmani Grandal signing. A one year deal with a player option for a second year. Look for Semien to cost a bit more however due to the fact that he was a MVP candidate in 2019.
The Brewers have been willing to push players to different positions than they're used to before in order to add production into the lineup. Think back to the acquisition of Mike Moustakas in 2018 and when they signed him back in 2019. Moustakas had been a third baseman his whole career, and so had Travis Shaw. They decided to move Shaw to second to accommodate and then in 2019 the plan had Moose covering the keystone position, until Shaw's ultimate slump changed that.
Semien has been a shortstop by trade, but he seems like a perfect candidate to move to third base for a year in a Brewers uniform. This way the Brewers can fill their needs while adding a productive bat.
Given Semien only has one year of high level offensive numbers, his ultimate contract this winter will be tough to predict. His 139 OPS+ in 2019 is a great performance, but it was preceded by six years of a below average OPS+ and followed by a 91 OPS+ in 2020. The question the Brewers and other teams will have to guess on the answer to, is whether or not the 2020 season was an outlier and he really has turned a corner offensively, or if 2019 was the outlier and he's really just a slightly below league average hitter.
Semien will want to sign with someone who believes he turned a corner, since they would offer more money most likely. Perhaps Stearns' analytics team has found something that makes them think he's turned a corner and they can grab him while others are undervaluing him.