Brewers Spring Training: Initial Workout And Report Dates Set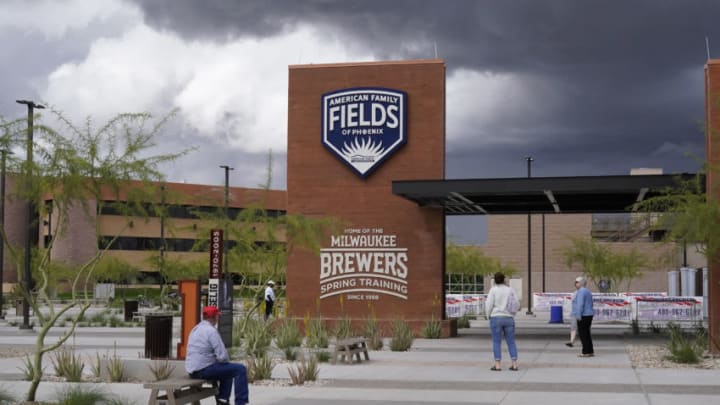 Mar 13, 2020; Phoenix, Arizona, USA; Fans walk around American Family Fields of Phoenix following the cancellation of a spring training game between the Cleveland Indians and Milwaukee Brewers due to the Covid 19 coronavirus outbreak. Major League Baseball is also delaying the start of the regular season by at least two weeks Mandatory Credit: Rick Scuteri-USA TODAY Sports /
It's finally that time of year again! Spring training is just around the corner. So when do the Brewers start their workouts?
It may not feel like it with the frigid weather around Milwaukee, but spring is almost here and that means the Brewers are getting ready to play baseball.
Tuesday, February 9th was Truck Day for the Brewers as their equipment truck with everything they need for spring training was packed up and began it's long journey down to Arizona at American Family Fields of Phoenix.
The truck will arrive a few days before the players do. So when are the players scheduled to arrive?
Brewers Pitchers and Catchers Report Date
The technical report date for Brewers pitchers and catchers is February 17th. All of them will have to undergo physicals and get Covid-19 tests as they start the health and safety protocols for the season.
The first workout for pitchers and catchers is February 18th. That's when we'll see videos of pitchers playing catch, throwing bullpen sessions, and hearing the sweet sounds of mitts popping.
They'll have a few days by themselves before the rest of the position players arrive.
Brewers First Full Squad Workout
The rest of the position players have a report date of February 22nd.
The first full squad workout with all pitchers and position players is scheduled for February 23rd. Once we reach that day, everyone who was invited to camp, should be in camp.
The Brewers will have a few more days of team workouts and practices and then games will start shortly after.
Brewers First Spring Training Game
The first spring games of the year are scheduled for February 27th. The Brewers have a split-squad scheduled for that day, one against the Oakland Athletics and one against the Chicago White Sox. They'll follow that up with a game against the Texas Rangers on the 28th and then the rest of March will be filled with spring training games before Opening Day on April 1st.
With the expected limited capacity of spring training in 2021, lower level minor leaguers won't be in camp at the same time playing on back fields to get their work in. Normally it's these minor league camp players that fill out the split squad rosters in spring training. Without them there, split squads are going to look a little different. There are a number of non-roster invitees who can help fill in, though.
Managers will have the ability to shorten spring training games if they so desire this year since the final few innings can't be filled with minor league camp guys.
There may be a few different looks to spring training in 2021 than what we're used to seeing, and games may not go as long. But it's still baseball, the season is getting ready to start, and it's time to dream on what can happen in a brand new season.
The Brewers may still have some roster moves to make before pitchers and catchers report, but even if they don't, there's still time before Opening Day.