Brewers: 3 Non-Roster Invitees Who Could Make The 2021 Roster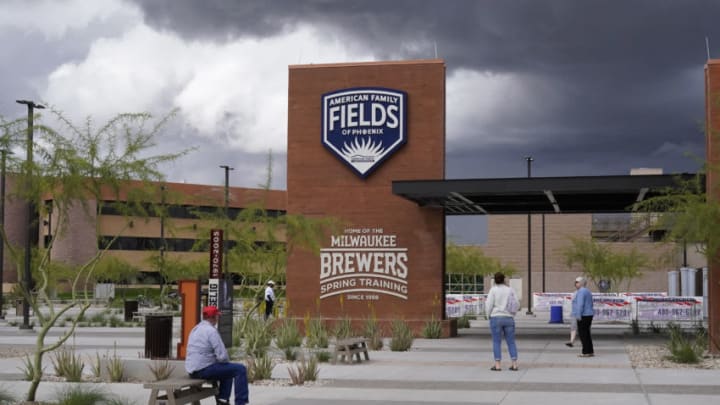 Mar 13, 2020; Phoenix, Arizona, USA; Fans walk around American Family Fields of Phoenix following the cancellation of a spring training game between the Cleveland Indians and Milwaukee Brewers due to the Covid 19 coronavirus outbreak. Major League Baseball is also delaying the start of the regular season by at least two weeks Mandatory Credit: Rick Scuteri-USA TODAY Sports /
The Milwaukee Brewers will have 20 non-roster invitees this year for 2021's Spring Training. That is twice as much as last year, and six of those players will be on minor league contracts that were signed during the offseason.
There is always a surprise or two when it comes to the Opening Day roster. So who will be this year's Logan Morrison and Justin Grimm?
Milwaukee's position player group seems pretty much set unless another third basemen is signed or a trade occurs. So don't be shocked if any/all of the non-roster invitees that make the roster are from the pitching side.
Let's look at three of these invitees and two honorable mentions on the fielding side.
Starting pitcher Jordan Zimmermann would provide depth at the starting position and middle relief help.
The Brewers signed Wisconsin native Jordan Zimmermann on February 9th to a minor league contract and invitation to Major League Camp. Coming off a disappointing five-year contract with the Detroit Tigers, Zimmerman is hoping to bounce back with the team he grew up rooting for.
The 34-year old is hoping to return to form from his years with the Washington Nationals. Between the years of 2012 and 2015, he had ERAs of 2.94 3.25, 2.66 and 3.66. Each of those years had winning records as well.
Zimmerman is a perfect back-end rotation option, especially if pitchers like Adrian Houser or Eric Lauer cannot improve and get over the hump and become a dependable starter. I don't think the Brewers should give up on either of those pitchers, but if Zimmerman has a solid Spring Training, you have to include him on the Opening Day roster.
Having a veteran starter along with Josh Lindblom in your clubhouse does nothing but help Milwaukee's current core of young talent. I see Zimmerman in the starting rotation at some point during the 2021 season.