Brewers: An Early 26 Man Opening Day 2021 Roster Prediction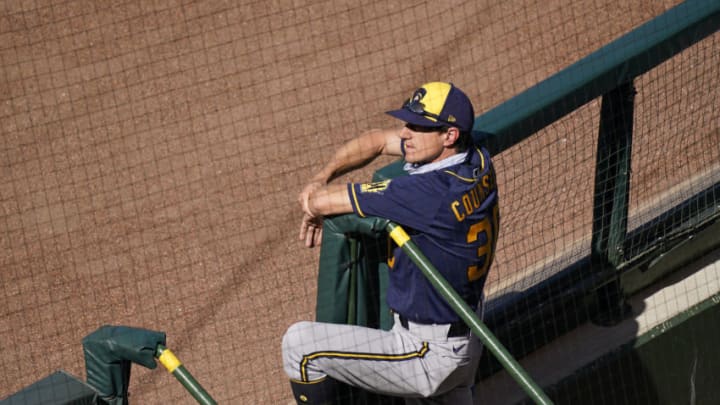 CHICAGO, ILLINOIS - AUGUST 16: Manager Craig Counsell #30 of the Milwaukee Brewers stands in the dugout during the seventh inning of a game against the Chicago Cubs at Wrigley Field on August 16, 2020 in Chicago, Illinois. (Photo by Nuccio DiNuzzo/Getty Images) /
Spring training is upon us! The Milwaukee Brewers pitchers and catchers have reported to camp and the position players are soon to follow. With players arriving, it's time to start trying to predict who will make the Opening Day roster.
They will open with a 26 man roster this year, unlike the 30 players they were allowed last year.
There are a number of position battles that will have to play themselves out over the course of the spring, including the 5th starter job, fourth outfielder job, and starting shortstop job.
Here's our first prediction of what the 26 man roster will look like on April 1st.
Brewers Projected Catchers (2)
Omar Narvaez, Manny Pina
Other Candidates: Jacob Nottingham, Luke Maile, Mario Feliciano
Both Narvaez and Pina were signed to one year deals to avoid arbitration back in December. They lead the depth chart as the Brewers will look for a bounce-back year from Narvaez and Pina is returning from knee surgery.
Jacob Nottingham is out of minor league options and the Brewers are unlikely to carry three catchers on the roster. Don't be surprised if Nottingham is traded before Opening Day.
Luke Maile has a minor league option and is likely to get sent down if both Narvaez and Pina are healthy while Feliciano is going to be more of an option starting in 2022.
Brewers Projected Infielders (7)
Orlando Arcia, Keston Hiura, Daniel Robertson, Travis Shaw*, Luis Urias, Daniel Vogelbach, Kolten Wong
Other Candidates: Mark Mathias, Jace Peterson, Zach Green
The right side of the infield is pretty much set in stone with Kolten Wong at second base and Keston Hiura at first base. On the left side, there will be a battle throughout camp between Urias and Arcia for the shortstop job, but both are still extremely likely to make the roster.
At third base, Travis Shaw( * denotes NRI) is currently not on the 40 man roster, but he stands a pretty strong chance of making the team considering the other alternative is Daniel Robertson, who is likely to be the backup utility guy. Shaw's ability to play first base and second base as well makes him a valuable asset to have on the roster.
Vogelbach will be the big bat off the bench but won't play as much as previously thought since there is no DH this year.
Brewers Projected Outfielders (4)
Lorenzo Cain, Derek Fisher, Avisail Garcia, Christian Yelich
Other candidates: Billy McKinney, Tyrone Taylor, Tim Lopes, Corey Ray
There's plenty of competition for the backup outfielder job. The Brewers acquired Billy McKinney last summer, Tim Lopes last December, and then traded a PTBNL to get Derek Fisher a few days ago. That's quite the number of players to get to compete with in-house options like Tyrone Taylor and Corey Ray.
Taylor and Ray have minor league options, as does Lopes. McKinney and Fisher do not, making them the leaders in the clubhouse for the 4th outfielder job. Given Stearns' history with Fisher, drafting him when he was with the Astros, I'm currently giving the edge to Fisher, but that is subject to change as camp goes on and we see who hits and who doesn't.
The other three players are not subject to change as Cain, Garcia, and Yelich will be the starting trio in the outfield as they're also the three highest paid players on this roster.
Brewers Projected Starting Rotation (5)
Brett Anderson, Corbin Burnes, Adrian Houser, Josh Lindblom, Brandon Woodruff
Other Candidates: Freddy Peralta, Eric Lauer, Jordan Zimmermann
Provided all options are healthy, there are four locks to be in this rotation: Woodruff, Burnes, Anderson, and Lindblom. The 5th starter job is up for grabs between Houser, Peralta, Lauer, and the longshot option of Zimmermann.
Houser is the odds-on favorite to win that job, given his high overall ceiling, even though he struggled in 2020. With some adjustments and improved infield defense, Houser appears in line for a huge step forward.
Peralta also has a high ceiling and the Brewers have been looking to try him out for a full time rotation spot since he came up as a 21 year old in 2018. He only got one start in 2020 but at just 24 years old, there's still a good chance he can become a successful starter, especially after adding a slider to his repertoire.
Eric Lauer also faced consistency issues in 2020. With the return of Brett Anderson as the staff lefty, that makes it an uphill battle for Lauer to win a rotation job since the team doesn't need two lefties in the rotation as much as they need just one.
Brewers Projected Bullpen (8)
Brad Boxberger*, Josh Hader, Freddy Peralta, Drew Rasmussen, Brent Suter, Justin Topa, Devin Williams, Eric Yardley
Other Candidates: J.P. Feyereisen, Ray Black, Angel Perdomo, Bobby Wahl, Phil Bickford, Blaine Hardy, Hoby Milner, Quintin Torres-Costa
Non-roster invitee Brad Boxberger earns a spot on the Opening Day roster in this projection. He has a closer's background and his veteran experience and leadership is a great fit for a very young Brewers bullpen.
Hader and Williams will form a 1-2 punch at the back end of the bullpen with Drew Rasmussen and Justin Topa serving as the hard-throwing relievers that can get a strikeout when needed.
Eric Yardley and Brent Suter are the soft-tossers, Yardley from the right side and Suter from the left. They should pair well following or preceding the guys like Topa and Rasmussen.
Freddy Peralta is the swingman between the rotation and the bullpen, also serving as a long reliever if necessary and could piggyback with someone like Brett Anderson in tandem-type starts.
Ray Black throws hard but is out of options and could get DFAed to make room for Boxberger. Guys like Feyereisen, Perdomo, Wahl, and others are likely to go up and down this year, being regular riders on the shuttles between Milwaukee and Nashville.