Brewers: 3 Underrated Players to Watch in Spring Training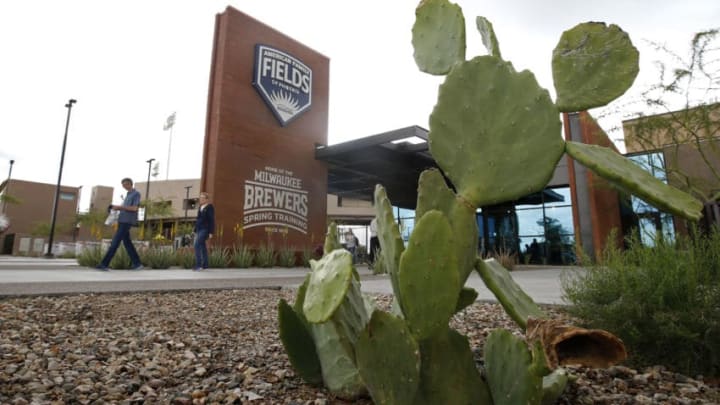 MARYVALE, - MARCH 12: Fans walk from American Family Fields stadium, spring training home of the Milwaukee Brewers, following Major League Baseball's decision to suspend all spring training games on March 12, 2020 in Phoenix, Arizona. The decision was made due to concerns of the ongoing Coronavirus (COVID-19) outbreak. (Photo by Ralph Freso/Getty Images) /
As is typical for any Spring Training, there are plenty of new faces in camp this year for the Milwaukee Brewers, hoping to ingratiate themselves and make a good first impression with the big league club.
The Brewers have been pretty busy on the player market in recent weeks, adding Travis Shaw on a minor league reclamation deal, re-signing starter Brett Anderson who was very reliable in 2020, and most notably signing second baseman and former St. Louis Cardinal Kolten Wong to a multi-year contract.
While everyone will likely have their eyes on Wong and the team's other star players like Christian Yelich, Keston Hiura, Brandon Woodruff and others, let's single out some underrated players who Brewers fans should be paying attention to as we get closer and closer to Opening Day- starting with Omar Narvaez.
Brewers C Omar Narvaez
2020 Stats: .176 BA, .294 OBP, 2 HR, 10 RBI, .562 OPS
You'd be forgiven if you just cringed a little bit reading those offensive stats from Omar Narvaez last year. Simply put, he never found his groove last year at the plate for Milwaukee.
However, there is plenty of reason to be optimistic for a bounce-back. For one, his 2020 numbers are a total aberration when compared to his career averages. In 2019 he had a stellar season for the Mariners with 22 home runs and a respectable .813 OPS.
Secondly, it has been well-documented that numerous players, both in Milwaukee and league-wide had career-worst offensive outputs in the abbreviated 2020 season. Perhaps it was the long lay-off before Opening Day in late July, or having no fans in the stands, or a lack of in-game video usage, or a combination of all three. Whatever the case may have been, add Narvaez to your list of Brewers who could potentially have a nice bounce-back season in 2021.
Brewers 3B Daniel Robertson
26-year-old utilityman Daniel Robertson is one of several options to fill the third base void that the Brewers have. He isn't the big-name addition that many fans might have been hoping for, but he could certainly contribute in a positive way in 2021.
Robertson, a former first round pick and top prospect, has spent time in the big-leagues with Tampa Bay and San Francisco, with his best season being in 2018 with the Rays where he had a .382 OBP and 74 hits across 87 games.
Speaking to Adam McCalvy of MLB.com upon signing his $900,000 deal with the Brewers, Robertson said "I'm 26 and I think I have a lot of career ahead of me, and I'm thankful and blessed that the Brewers were even offering a big league deal. This is a year for me to break out."
It's an encouraging sign that Robertson is heading into the season with no shortage of confidence. Let's hope his bet on himself is realized, and he indeed has a breakout season.
Brewers SP Adrian Houser
2020 Stats: 1-6 W/L, 5.30 ERA, 1.50 WHIP, 7.0 K/9
2020 wasn't particularly kind to Adrian Houser.
For the first time in his career Houser was heading into a season with some real expectations after a strong 2019 campaign. He struggled for most of the year, but all in all he only pitched 56 innings. It's fair to question whether or not he would have found a better groove in a more conventional season.
Contrary to what has been the case in recent seasons, one of the Brewers strengths as a team right now is their starting rotation. 2019 All-Star Brandon Woodruff has finally broken the Brewers' Opening Day Starter curse, establishing himself as one of the National League's best starters. Right behind him is Corbin Burnes, who, with his dominating slider and fastball combo, looks to have an extremely bright future.
What this means is that if Houser has a breakout similar to those two, the Brewers can propel themselves further into contention in a relatively weak-looking NL Central. Keep an eye on Houser this Spring Training.
There's no shortage of players looking to bounce-back from tough seasons, or to establish themselves in the big leagues on Milwaukee's 2021 Spring Training roster. Narvaez, Robertson, and Houser are simply a few under-the-radar examples of that trend; they might not make too many headlines before Opening Day on April 1st, but they are key to the team's overall success.