How High Could Josh Hader Climb Up All-Time Brewers Saves List in '21?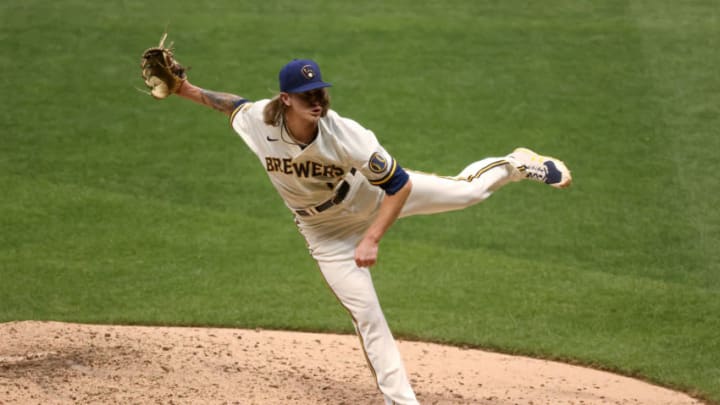 MILWAUKEE, WISCONSIN - AUGUST 24: Josh Hader #71 of the Milwaukee Brewers pitches in the eighth inning against the Cincinnati Reds at Miller Park on August 24, 2020 in Milwaukee, Wisconsin. (Photo by Dylan Buell/Getty Images) /
Having only existed since 1970, the Milwaukee Brewers only have so many season from which to compile statistics when determining its historical leaders. Still, few of the players that currently exist on the roster find themselves very high up any of the team's all-time leaderboards.
That wasn't the case even just last season. Ryan Braun was still a Brewer at that point and after 14 years in a Milwaukee uniform, you can find his name sprinkled all over the place among the historical Brewer greats.
But Braun is no longer around, having had his option declined by the team last fall. At this point, with no universal designated hitter on board for the National League among other factors, it looks like it is likely to stay that way for 2021.
No current Brewers have anywhere close to the longevity with the team that Braun had, making it difficult to climb those statistical leaderboards. Christian Yelich has accumulated stats very quickly in his three seasons in Milwaukee, but even he has a long way to go in most categories.
There is one Brewers player, though, who not only has made his way to the Top 10 of one cumulative team stat, he could actually feasibly finish the season in the Top 3 by season's end. His name is Josh Hader, Milwaukee's outstanding lefty reliever who has also the team's main closer the last two years.
Believe it or not, there's a good chance Josh Hader could be as high as the top 3 in saves all-time in Brewers history by the end of 2021.
The history that goes into the all-time saves category for the Milwaukee Brewers franchise isn't exactly a robust one. Hall of Famer Rollie Fingers was one of the first great closers, even holding the all-time record for a while. But he only put 97 on the board as a Brewer toward the end of his career, good for third most for the franchise.
John Axford, who holds the team's single season saves record with 46 during the 2011 playoff season, sits above him in second place, while three-time All-Star Dan Plesac currently holds the team's all-time mark with 133 saves from the 1986 to 1992 seasons.
Hader, the latest in the line of Brewer closers, has been the primary closer for just two years now, one of which being the shortened 2020 season. He has amassed 62 saves in that time, which already has him in eighth place on the all-time Brewers saves list.
After putting up a 2.42 ERA and 0.850 WHIP with a combined 15.3 K/9 in his first three seasons for Milwaukee, Hader took a slight step back to a 3.79 ERA, 0.947 WHIP, and only 14.7 K/9. Still, Hader put up 13 saves in 2020, which ended up leading the National League.
Even if Hader doesn't lead the league in saves again, a repeat performance in the range of his 37-save season from 2019 would put him right around 100 saves for his career, which would vault him right into third place on the team's all-time list.
Of course, this all is dependent on the Brewers leaving him in the team's closer role going forward. For his part, according to Adam McCalvy of MLB.com, Hader says continuing to close for the team is, "something that I'm preparing for and continuing to learn that role."
There will plenty to look forward to this season as Brewers baseball returns to a sense of normalcy in 2021. Hopefully one of the most dominant relievers in Milwaukee history ascending the list of the best closers in team history is just one of the highlights.