3 Reasons To Be Excited About Freddy Peralta In 2021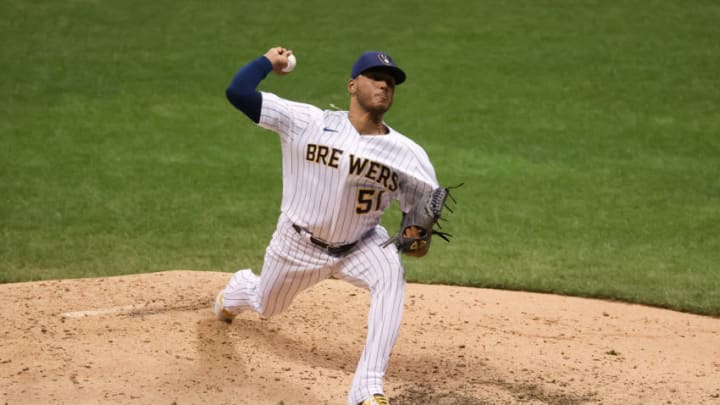 MILWAUKEE, WISCONSIN - SEPTEMBER 16: Freddy Peralta #51 of the Milwaukee Brewers pitches in the fourth inning against the St. Louis Cardinals during game two of a doubleheader at Miller Park on September 16, 2020 in Milwaukee, Wisconsin. (Photo by Dylan Buell/Getty Images) /
The Brewers could have an embarrassment of riches in the bullpen this coming season.
They have the reigning NL Reliever of the Year and Rookie of the Year in Devin Williams, who possesses one of the most gravity-defying pitches in all of baseball. Then there's Josh Hader who's been one of, if not the best reliever in baseball for the better portion of the last half decade with a fastball that can still reach 95 mph.
Steady performers in the bullpen also include soft-tossers Eric Yardley and Brent Suter who went a combined 4-0 in 40 appearances with ERAs of 1.54 and 3.13 respectively. Lastly, there's the up-and-coming guys like Justin Topa and Drew Rasmussen who may not start the year in the majors, but will more than likely prove to be vital pieces sooner than later with velocity numbers near triple digits.
But there's one guy that people tend to forget about: Freddy Peralta. Peralta is a prime candidate to make a significant jump in his fourth season at the major league level and here's three reasons why.
1. Freddy Peralta's 2020 numbers are deceiving on the surface
3-1 record. 3.99 ERA. 13 earned runs in 15 games. 22 hits given up. While these weren't poor numbers by any stretch of the imagination, his performance was well above average according to Baseball Savant. Clink on the link and check out how Peralta ranked among the rest of the MLB:
The first couple things that jump out are the elite strikeout and whiff percentages. Being in the 96th percentile of strikeout percentage Peralta finds himself right there with the best punch out recorders in the game and even above the likes of reigning NL Cy Young Trevor Bauer who is three spots behind Peralta in the category. In terms of whiff percentage, he was above teammate Josh Hader and even had a firm lead over 2020 All-MLB First Team Reliever Liam Hendriks.
Some other stats to take note of are an xBA (expected batting average) of .179, an xERA (expected ERA) of 3.11, a hard hit percentage of 31.7% (which is down about seven percentage points from 2019) and lastly a K/9 ratio of 14.4. Peralta excelled in a number of different areas on the rubber last season.
Areas of improvement for the 24 year old include less barrels (38th percentile) at 7.9% of the time and less walks (39th percentile) at 9.6% of the time. But based on last year's success, Freddy Peralta has to be in the conversation for the reliever to make the biggest jump if he can keep improving upon some of these numbers from last year.