3 Reasons To Be Excited About Freddy Peralta In 2021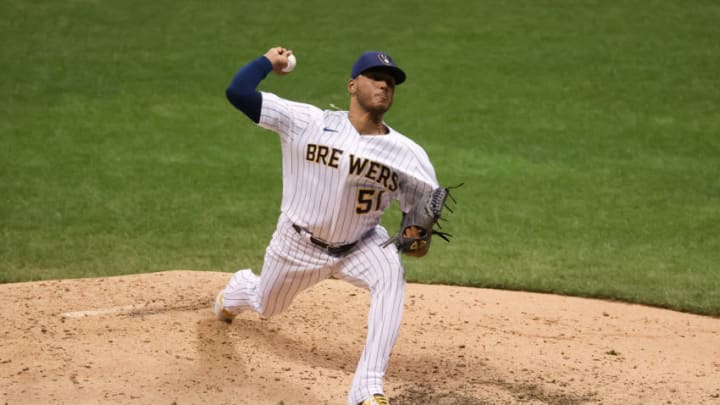 MILWAUKEE, WISCONSIN - SEPTEMBER 16: Freddy Peralta #51 of the Milwaukee Brewers pitches in the fourth inning against the St. Louis Cardinals during game two of a doubleheader at Miller Park on September 16, 2020 in Milwaukee, Wisconsin. (Photo by Dylan Buell/Getty Images) /
Sep 27, 2020; St. Louis, Missouri, USA; Milwaukee Brewers relief pitcher Freddy Peralta (51) pitches during the third inning against the St. Louis Cardinals at Busch Stadium. Mandatory Credit: Jeff Curry-USA TODAY Sports /
2. Peralta's added a KEY wrinkle to one of his pitches
Will Sammon, a writer for The Athletic who covers the Milwaukee Brewers, took a deep dive into a grip change for Freddy Peralta's slider. Entering the season last year, Peralta was excited to try out a slider that he had been working hard on during the offseason. He expected his version of the slider to be that ever so important third pitch in a pitcher's repertoire. This one was deemed a "bullet slider" with more of a downward motion to it thanks to the intense index-finger pressure.
But he wasn't seeing the results that he wanted with the new pitch. He struggled in his first and only start of the year on July 26th, going three innings and giving up four runs, three hits and two walks. And his new pitch was barely moving.
Rewind about a month before that game and there was a video circulating via Trevor Bauer's YouTube channel. This video gave the ins and outs and everything in between in the conversation of gravity and magnus force, which help contribute to the dance party that Bauer's pitches take part in on the way to the plate. Peralta saw this video and was intrigued but opted to stay with the slider he had been working so hard on.
After a couple months, Peralta had seen enough. He was ready to try Bauer's slider…and it was one of the best choices he could've made. The new and improved slider had more horizontal movement and he changed the grip by putting his index and middle fingers together rather than separated like he had done before. The results were nothing short of amazing.
The Brewers see Peralta's slider as an established part of his pitch mix now, not an experimental addition.
He went three scoreless innings, striking out six and producing two whiffs in his first game with the revamped pitch against the Chicago White Sox. And from there he never looked back. In the 26 ⅓ innings that followed that appearance, Peralta had a 3.08 ERA with 44 strikeouts with an average horizontal movement never lower than seven inches, compared to the 3.48 inches on average that he was logging before.
Pair this reconstructed slider with a well-above average fastball and 12-6 curveball that has good break and you've got an impressive trio of options at your disposal. Look for Freddy Peralta to utilize this pitch more and more and get as comfortable as he can with it.
Oh and he mentioned another pitch potentially being added to the mix. "I don't know if it's going to be soon or this season, but I've been working on the change-up really hard. It's important for me to have multiple pitches. I just need to wait until the spring games, keep working on the change-up, see how it is, how confident I feel, how confident the catchers are. Then we'll have a decision."
Hitters beware of Freddy Peralta in 2021.