Brewers: What is the Plan for a Struggling Eric Lauer?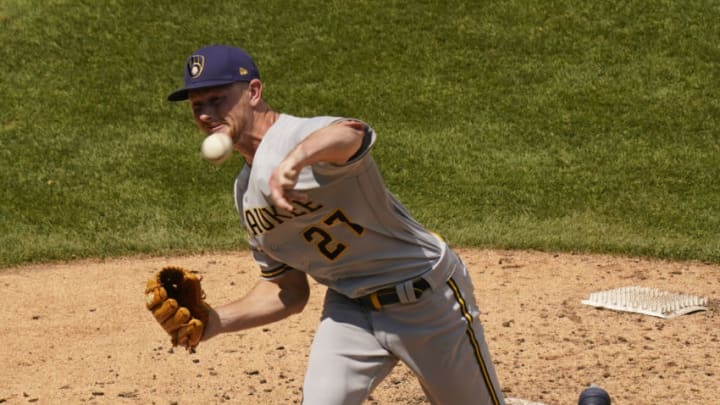 CHICAGO, ILLINOIS - JULY 26: Eric Lauer #27 of the Milwaukee Brewers throws a pitch against the Chicago Cubs during the fourth inning of a game at Wrigley Field on July 26, 2020 in Chicago, Illinois. (Photo by Nuccio DiNuzzo/Getty Images) /
In November of 2019 the Milwaukee Brewers and San Diego Padres made a trade in which, on paper, both teams received MLB-ready players that fit an area of need for each ball club.
The deal consisted of RHP Zach Davies and OF Trent Grisham departing Milwaukee and LHP Eric Lauer and INF Luis Urias arriving. Since the trade, Davies has signed a contract with the rival Chicago Cubs and the other three players remain on their respective ball clubs.
As a Padre, Lauer was their 2019 opening day starter. In 261 innings, he recorded a 4.40 ERA across 2018 and 2019. In his first year as a Brewer, though, Lauer battled injury and appeared in just four games. In those four games, he pitched 11 innings, walked nine batters, and had a 13.09 ERA.
It is easy to not put a lot of stock into a shortened 2020 season that was derailed by poor performance, command, and injury, so with spring training underway, many fans were anxious to see what Eric Lauer could do this season.
Unfortunately, his first three Cactus League appearances have been a site for sore eyes.
While Lauer's pitching stats indicate that he has pitched five innings of work and allowed eight earned runs so far in spring training, there is actually a hiccup in the system as in his last appearance, he was performing so poorly that the Brewers did not have to finish the inning.
So with Eric Lauer struggling so far in spring training, what will the Brewers' plan be for him to start 2021?
Eric Lauer is one of a few pitchers competing for a final spot in the Brewers starting rotation, so to get off to this poor of a start in spring training does not bode well for him.
Fortunately, Lauer has two minor league options remaining and having options remaining is critical for Lauer to remain on this team. This gives the Brewers the ability to let Lauer pitch consistently in the minor leagues.
His inability to command the baseball and limit runs more than likely has earned him a Triple-A assignment with the Nashville Sounds. Even if he performs well for the remainder of spring training, it's hard to visualize Lauer winning a final rotation spot over the likes of Josh Lindblom, Brett Anderson, Adrian Houser, or even Freddy Peralta.
At this point, Lauer's struggles in a Brewers uniform are continuing. For a young pitcher who is a former Opening Day starter, this is tough to see and all we can do at this point is hope that whatever David Stearns and company saw in Eric Lauer when they traded for him appears sooner rather than later, otherwise there is the potential that this trade may go down as a rare miss.
Lauer has about three more weeks to make improve his stock for making the Opening Day roster, but he'll have to look a whole lot better than he's looked so far in spring training if he wants to get the job done.