Brewers Make Surprising Cuts Of A Pair Of Veteran Pitchers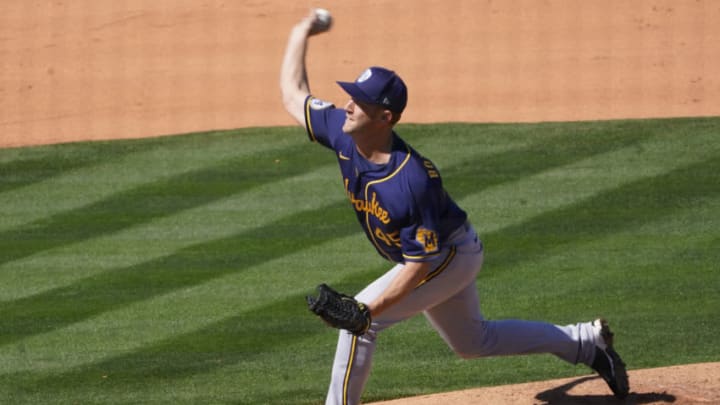 Mar 18, 2021; Tempe, Arizona, USA; Milwaukee Brewers pitcher Brad Boxberger (45) throws against the Los Angeles Angels during a spring training game at Tempe Diablo Stadium. Mandatory Credit: Rick Scuteri-USA TODAY Sports /
The Milwaukee Brewers are getting to the end of spring training, which means it's decision time on a number of players in camp.
The opt out dates for veteran pitchers Jordan Zimmermann and Brad Boxberger were approaching, and the Brewers had to tell them if they were going to make the Opening Day roster or not.
It appears the answer was no.
The Zimmermann release is only mildly surprising, as he was not announced as a member of the starting rotation the day before and the Brewers have a crowded bullpen picture. With Josh Lindblom and Brent Suter handling the long reliever roles, there really wasn't a need for a third long reliever.
In four Cactus League appearances covering six innings, Zimmermann had a 6.00 ERA with nine hits allowed and just three strikeouts.
However, Zimmermann had been improving towards the end of camp and was starting to look better. On Thursday, it was reported that the Brewers were in talks with Zimmermann about his contract and there was some hope that perhaps it could be amended and Zimmermann could stick around.
The Brad Boxberger release is more surprising. As a veteran reliever with closer experience, Boxberger would've fit well in this young and relatively inexperienced bullpen. He was also rounding into shape at the right time after a tough start to camp. But Boxberger, in his eight appearances, had a 9.00 ERA in eight innings of work, including allowing three homers and 10 hits, but he did strike out 11.
The Brewers will look to re-sign both Boxberger and Zimmermann to minor league contracts after surprisingly releasing them.
This may be tough to successfully pull off for David Stearns. He wants to keep both pitchers around, but won't put them on the Opening Day roster, meaning they would have to accept an assignment to Triple-A.
Before either pitcher would latch back on with the Brewers in their minor league system, they will look around the league in free agency and see if any other team would sign them to their major league roster. The Brewers have snatched up guys such as Dan Jennings like this in the past. All 29 other teams will have a chance to snag these pitchers for their roster and if any single one of them wants to give them a big league spot, they're gone.
Boxberger is the most likely to sign elsewhere. It's tough to see Zimmermann being given a big league roster spot anywhere at this point, so there's a chance he could come back with the opportunity to play for his hometown team in the regular season.
While these moves are bad news for Boxberger and Zimmermann, it is great news for Ray Black, who is also on the roster bubble. Black's strong performance in Thursday's game earned him some praise from Craig Counsell, and likely boosted his chances of sticking on this roster.
Black is out of minor league options and it was believed that he was on the outside looking in with Boxberger ready to take his 40 man roster spot. With Boxberger gone, the odds of Black sticking around have dramatically increased.
The decisions always get tough around this time of year, and with the depth the Brewers have all around, they're even tougher.