Brewers: Are 2021 Relief Pitcher Stat Projections "Fair" or "Foul?"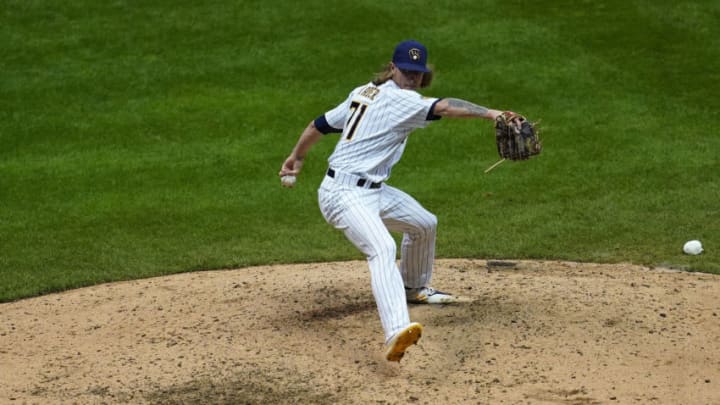 MILWAUKEE, WISCONSIN - SEPTEMBER 18: Josh Hader #71 of the Milwaukee Brewers throws a pitch during a game against the Kansas City Royals at Miller Park on September 18, 2020 in Milwaukee, Wisconsin. (Photo by Stacy Revere/Getty Images) /
MILWAUKEE, WISCONSIN – SEPTEMBER 18: Josh Hader #71 of the Milwaukee Brewers throws a pitch during a game against the Kansas City Royals at Miller Park on September 18, 2020 in Milwaukee, Wisconsin. (Photo by Stacy Revere/Getty Images) /
The final Brewers position group projection is upon us and some may say we saved the best for last. The Milwaukee bullpen has been a force to be reckoned with for the last handful of years and is expected to be again in 2021.
The club has plenty of tough choices to make when it comes to who will make the Opening Day roster, but it's a great problem to have. Not only are there guys that took a huge jump last year that look ready to be consistent major league contributors this year, but there are also prospects that have had tons of success in the Cactus League that you can't forget about.
We'll take a look at the nine relievers we most recently projected to make the team along with Ray Black, but don't be shocked to see another key arm or two added into the mix at some point in the season. As usual, these predictions are courtesy of Baseball Reference.
Batter up! Or pitcher up in this case! We're the umpire once again, so let's determine if these Brewers stat projections are "fair" or "foul."
Josh Hader
Projection: 3-3 / 3.57 ERA / 15 SV / 58.0 IP / 1.069 WHIP
Ruling: Foul
Even the reigning NL saves leader has his doubters. Josh Hader has been one of the best bullpen arms since he joined the big leagues in 2017. I just don't understand these projected numbers. Sure last year he didn't have his best year in terms of numbers, but he was still a huge weapon for Craig Counsell.
The 3-3 record I won't get too bent out of shape about, especially for a closer, because they aren't generally there to log "wins". The ERA is just too high though. Before last year, Hader had never had an ERA over 3.00 and then he hit a funk.
Next, I don't know who in their right mind has him registering only 15 saves in any amount of innings north of 30. He's typically in there in save situations as a testament to the rest of the arms in the 'pen. For goodness sake, the guy had 13 last year in 19 innings. That number is just disrespectful.
Lastly, he's never had a WHIP over 1.000 so I'm not entirely sure why that would climb if they expect his ERA to drop. This is a puzzling prediction. I would guess somewhere around 4-2, 3.23 ERA, 33 SV, 67 IP, and 0.910 WHIP.