Brewers: Are 2021 Relief Pitcher Stat Projections "Fair" or "Foul?"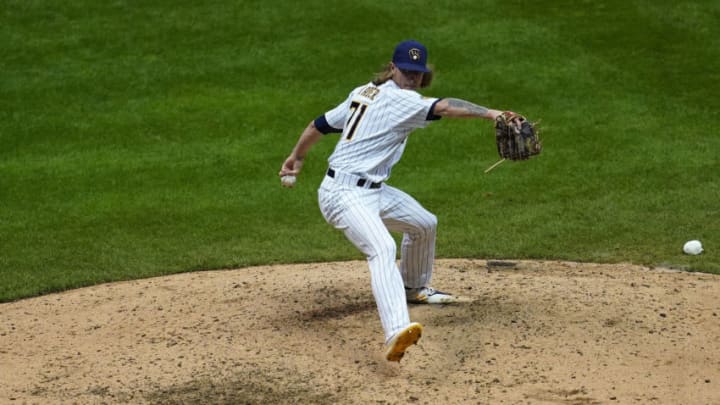 MILWAUKEE, WISCONSIN - SEPTEMBER 18: Josh Hader #71 of the Milwaukee Brewers throws a pitch during a game against the Kansas City Royals at Miller Park on September 18, 2020 in Milwaukee, Wisconsin. (Photo by Stacy Revere/Getty Images) /
PITTSBURGH, PA – JULY 27: Devin Williams #38 of the Milwaukee Brewers in action against the Pittsburgh Pirates during Opening Day at PNC Park on July 27, 2020 in Pittsburgh, Pennsylvania. The 2020 season had been postponed since March due to the COVID-19 pandemic (Photo by Justin K. Aller/Getty Images) /
Devin Williams
Projection: 5-3 / 3.57 ERA / 63.0 IP / 3.08 K/BB / 1.206 WHIP
Projection: Foul
Has Baseball Reference watched the Brewers bullpen over the last couple years? Once again, an unfair and quite frankly random projection. Let me remind you what these numbers for Devin Williams were last year: 4-1, 0.33 ERA, 27.0 IP, 5.89 K/BB, and a 0.630 WHIP.
I just don't understand on what grounds you can predict this big of a drop off. Will he replicate these numbers again in 2021? Probably not, but an ERA 10x higher? A WHIP that's been doubled? Give me a break.
He's proven to have one of the best pitches in all of baseball and can flat make guys whiff at the dish. Sure, he's coming off an injury and might get out of the gates a little slow, but when he's back to full strength I see no reason he can't be in the Cy Young conversation once again as a reliever. I'll give "The Airbender" a record of 5-3, a 2.32 ERA, 66.0 IP, 4.5 K/BB, and a 0.884 WHIP.
Brent Suter
Projection: 6-4 / 3.95 ERA / 82.0 IP / 3.38 K/BB / 1.220 WHIP
Ruling: Fair
I could very well see myself being off on this one based on the fact that he had a phenomenal 2019 campaign and a solid year last year. The stats that Baseball Reference gives us might be considered "good" to "average" numbers, but Brent Suter has shown he can be better than that.
He will once again be an innings eater if there is early trouble or an injury to a starter which is a huge luxury for Craig Counsell.
Any ERA above 4.00 I'd have a dispute with but 3.95 seems fine I suppose. I definitely agree with the amount of innings pitched although there could be a discrepancy if for whatever reason he becomes a starter. The K/BB ratio is pretty low considering he's had an average of around 11 in the last two years, so that might be my only disagreement.