Brewers: Are 2021 Relief Pitcher Stat Projections "Fair" or "Foul?"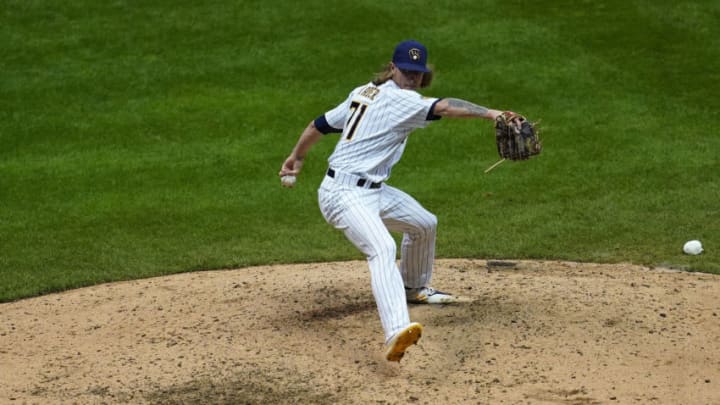 MILWAUKEE, WISCONSIN - SEPTEMBER 18: Josh Hader #71 of the Milwaukee Brewers throws a pitch during a game against the Kansas City Royals at Miller Park on September 18, 2020 in Milwaukee, Wisconsin. (Photo by Stacy Revere/Getty Images) /
PHOENIX, ARIZONA – MARCH 21: Freddy Peralta #51 of the Milwaukee Brewers is greeted by teammates moments before exiting the game in the fifth inning against the Seattle Mariners during the MLB spring training game at American Family Fields of Phoenix on March 21, 2021 in Phoenix, Arizona. (Photo by Abbie Parr/Getty Images) /
Freddy Peralta
Projection: 6-4 / 4.56 ERA / 81.0 IP / 2.91 K/BB / 1.296 WHIP
Ruling: Barely Fair
Freddy Peralta will begin the year in the starting rotation but the news was broke after we made the piece on the starters so we'll include him in the relief pitchers portion for now. The only reason this is fair is because of the inconsistencies that Freddy Peralta has displayed so far as a Brewer. He has one of the highest ceilings on the Milwaukee pitching staff, he just needs to find a way to replicate his success when pitching.
We all know him as "Freddy Fastball," but his recent tweak to his slider has to have Brewers pitching coach Chris Hook excited. Peralta has looked extraordinary in Cactus League play and just today it was announced that he's even pitched his way into a starting spot, at least to start the season.
I won't give any thoughts on his record as I'm not sure if he'll be a starter or reliever for the entire year but I do think the ERA is a bit high. I don't see how it climbs after having had an offseason to perfect his new weapon (Bauer-grip slider), but last year was his first year under a 4.00 ERA (3.99) so it's tough to protest such a number too much.
I don't have any grievances with his innings because he could ultimately be used similarly to Suter who was projected one more, but his K/BB ratio has to be higher. Last year was a 3.92 and that category has climbed every year for him, look for it to be in the mid to high 4's.
Justin Topa
Projection: 2-2 / 4.37 ERA / 35.0 IP / 2.85 K/BB / 1.314 WHIP
Ruling: Fair
So far in Spring Training, Justin Topa hasn't really looked like how he did ending the year last year but I wouldn't get too bent out of shape about it yet. He also recently injured himself during a simulation game so we should cross our fingers and hope that injury isn't too serious.
Last year in 7.2 innings pitched, he had a 2.35 ERA and was a guy that Craig Counsell could trust in high pressure situations late in the season despite him being a relatively new addition to the team.
This year there are question marks surrounding Topa and if he can replicate his success from last year so that's why these projections are okay with me. I'm inclined to think that earned run average will be lower, as he looked plenty dominant against the Dodgers' hitters but I can live with 4.37.
I think he'll have more around 50 innings pitched, but maybe if he struggles and gets sent down, that may take away some of that number. Lastly, his WHIP is projected to go up a bit which is fair given the fact that hitters may see him more often.