Brewers: Are 2021 Relief Pitcher Stat Projections "Fair" or "Foul?"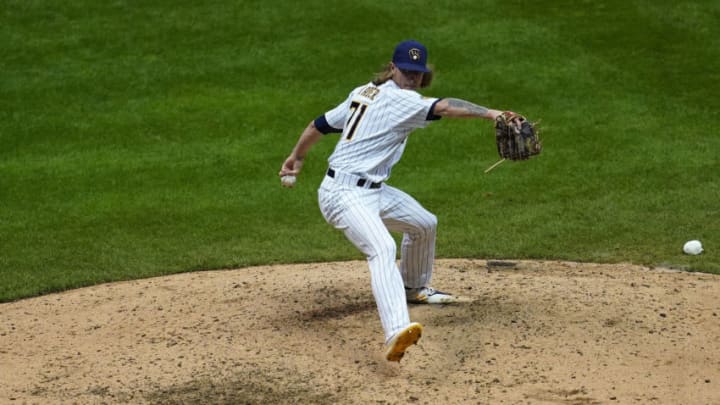 MILWAUKEE, WISCONSIN - SEPTEMBER 18: Josh Hader #71 of the Milwaukee Brewers throws a pitch during a game against the Kansas City Royals at Miller Park on September 18, 2020 in Milwaukee, Wisconsin. (Photo by Stacy Revere/Getty Images) /
MESA, AZ – MARCH 12: J.P. Feyereisen #54 of the Milwaukee Brewers pitches during the game against the Chicago Cubs at Sloan Park on March 12, 2021 in Mesa, Arizona. The Brewers defeated the Cubs 8-3. (Photo by Rob Leiter/MLB Photos via Getty Images) /
J.P. Feyereisen
Projection: 2-2 / 4.62 ERA / 37.0 IP / 2.31 K/BB / 1.324 WHIP
Ruling: Fair, but right on the line
The reason this one is deemed fair but fell right on the chalk is because of what he's been doing down in Arizona. Nobody who has appeared in more games than J.P. Feyereisen has a lower ERA. His currently sits at a miniscule 1.17 with thirteen, yes thirteen, strikeouts in 7.2 innings.
The pride of River Falls, WI gave up his first and only run on a solo home run by Jantzen Witte in his last appearance, having gone 21 hitters without giving up even a single hit prior.
Last year was his first taste in The Bigs, appearing in six games with a 5.79 ERA and seven strikeouts. That's the reason this ruling isn't considered foul. Similar to many other Brewer bullpen arms, he doesn't have the track record to warrant better numbers.
If this Spring is any indication of how he will fare in the upcoming year, the former UW-Stevens Point product could become a fan favorite.
Eric Yardley
Projection: 3-3 / 3.79 ERA / 57.0 IP / 2.39 K/BB / 1.333 WHIP
Ruling: Foul
If I'm following the trend of newer Brewer pitchers with not much MLB experience, Eric Yardley should be a fair ruling. But, he did too well last year to follow that trend. He led the team in appearances and boasted an ERA of 1.54. How can you not reward a guy for doing that?
Unlike some of these guys who were late call-ups and saw success, Yardley was on the big league roster since July 23. The side-armer only gave up two big flies in 2020 and his awkward delivery worked like a charm.
Yardley fits nicely in Milwaukee's bullpen as there are plenty of hard throwers around him but he only has a fastball with an average velocity of 88 mph. The continuity within the pitching staff could really benefit him once again, which is why I think he'll outperform these numbers. My guess for him is somewhere around 3-1, a 2.09 ERA, 64.0 IP, 2.46 K/BB, and a 1.189 WHIP.