Brewers Opening Day: Opponent, time, how to watch, and more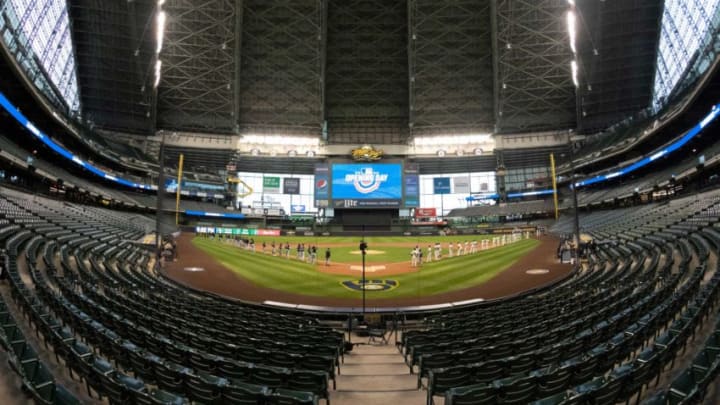 2020: The Milwaukee Brewers and Chicago White Sox line up for the first game of the pandemic-plague season at Miller Park on Aug. 3, 2020. For the first time, opening day took place with no fans in the stands.Brewers 2020 Home Opener /
Milwaukee Brewers Opening Day is finally here!
After a disappointing 2020 season overall, the Milwaukee Brewers are finally back and playing games that count. Not only are the Brewers back, but fans are back as well!
Milwaukee County has approved 25% capacity at the newly named American Family Field to start the year, and the Brewers have had tickets on sale through May 2nd. Hopefully they'll be able to increase capacity following that.
With the capacity limits, American Family Field will hold about 12,000 fans for Opening Day.
It's been far too long for all of us since we've seen a Brewers game in person, so getting fans into any game is incredible and it should have a profound effect on this team as well.
The long-awaited day has arrived, so let's get ready for it.
Milwaukee Brewers Opening Day Information You Need To Know
Opponent: Minnesota Twins (0-0)
Time: 1:10 P.M CT First Pitch
Location: American Family Field (Milwaukee, WI)
Starting Pitchers: Brandon Woodruff (0-0, 0.00 ERA) vs. Kenta Maeda (0-0, 0.00 ERA)
How To Watch: Bally Sports WI (formerly Fox Sports Wisconsin), MLB.TV, Fubo TV
Listen: Brewers Radio Network (620 WTMJ in Milwaukee)
The Brewers will start the season against the Minnesota Twins at home. Brandon Woodruff will get the Opening Day start for the second year in a row after posting a 3.05 ERA in 13 starts last season. He will face off against Kenta Maeda for the Twins, who had a strong year last season, pitching to a 2.70 ERA in 11 starts including a near no-hitter against the inept Crew offense.
This year, it's looking like the Crew's offense should be a lot better. In the offseason, the Brewers made two big free agent acquisitions, signing Kolten Wong and then signing Jackie Bradley Jr. to two-year contracts.
More from Reviewing the Brew
The signing of Wong had big implications for Keston Hiura, who has now changed positions in the infield, while adding JBJ gives the team great depth in the outfield and four starting quality players for three positions. There will be plenty of at-bats to go around between all four of them and no, this won't cut into Christian Yelich's playing time.
Speaking of Yelich, he's going to play in front of fans in Milwaukee for the first time since signing his big contract extension last spring. The 12,000 fans that will be in attendance need to show their appreciation for him deciding to stick around.
There's a lot to be excited about with this upcoming 2021 regular season. The Brewers are in the hunt for another NL Central division title, but it's a tough division. The Cardinals are expected to be the biggest competition for the Brewers to win that title.
To help get you ready for the beginning of the regular season, we've got bold predictions to get you excited, a look back at previous Opening Day performances from Christian Yelich, a look at who's hot and who's not coming out of spring training, a few players who could become All Stars for the first time this year, and so much more.
In a change from what we've seen the past several years, it's looking like the Brewers have a new regular shortstop in Luis Urias. Orlando Arcia will split his time between shortstop and third base, a new position for him that he'll share with an old friend that returned in Travis Shaw.
The Milwaukee lineup should be much better this year after the offseason additions and bounce-back years from a lot of returning members of the offense.
As the season gets started, Reviewing the Brew will continue to have the best coverage and analysis of Brewers baseball you'll find. Bring on the next 162.
Opening Day is going to be an emotional day for a lot of fans as we return to the ballpark for the first time since September 2019 and no matter what happens in the actual game, it'll be good to be back and have baseball back.