Brewers: Why Are The Pitch Counts So Low To Start The Year?
Early on in the season, many fans have grown concerned and confused over the low pitch count totals from Brewers starting pitchers this year.
Do not be alarmed. This is part of the plan. Craig Counsell and David Stearns have been trying to explain this all spring.
Last season, due to the stop and start nature of the season, as well as only playing 60 games, every pitcher across baseball pitched far less than they typically would. Generally speaking, teams don't like to push pitchers much more than 20% above their innings total from the year before. Teams have learned that massive increases in inning totals from pitchers from one year to the next puts pitchers at a very high risk of injury.
Considering the move from 60 games to 162 games is far more than 20%, pretty much every pitcher is going to have to pitch far above the 20% increase in innings from 2020 in 2021.
David Stearns even went on the record to say that it was unlikely that any Brewers starter would get the typical 30-32 starts this season. They'll work with a six man rotation and carefully manage innings to ensure everyone gets through the 162 game season healthy and gets ramped up safely.
The Brewers pitchers need to remain healthy and aren't going to be fully ramped up like we've seen before at this time.
As baseball fans, we're preconditioned to notice round numbers. One of the numbers we've been conditioned to pay attention to is pitch count, and for whatever reason, 100 is the magic round number. If a starter doesn't have at least 100 pitches on his pitch count, he still has gas in the tank. If he's over 100, then it's time to take him out.
Unfortunately, it doesn't always work that way.
Consistently in the 2021 season so far, Craig Counsell has been extremely cautious with his starters and pulling them before they reach that magic number of 100 pitches.
The most pitches a single starter has thrown so far this season for the Brewers is Freddy Peralta with 91 pitches in his first start, which covered five innings.
Brandon Woodruff was pulled after 78 pitches on Opening Day and then threw only 74 pitches in his second start through seven innings. He was cruising most of the game but was taken out. Why? Because he "emptied the tank"
Brandon Woodruff says he emptied the tank in the 7th. "I was a little tired coming out after that inning. I think that was the right time. I was losing myself in my delivery right there. I think Hook and 'Couns' kind of identified it as well. I think that was the right move."

— Adam McCalvy (@AdamMcCalvy) April 7, 2021
Woodruff emptied the tank and was a little tired after 74 pitches. He wasn't going to make it to 100, not without a higher risk of poor performance or even injury. That's the last thing the Brewers need right now.
Similarly, Corbin Burnes was spent after his six shutout innings and just 86 pitches. In his final inning, he uncharacteristically was falling behind in counts and missing his spots. It was time for him to be pulled, too.
Like Brandon Woodruff yesterday, Corbin Burnes says he was spent at the end of his outing. Said his legs weren't under him at the end, evidenced by some of the Cardinals' hitters counts in the sixth.

— Adam McCalvy (@AdamMcCalvy) April 8, 2021
A pitcher not having his legs under him or saying that he was tired and started losing his delivery is absolutely the perfect time to pull them from the game.
Forget the pitch counts. Forget whether they are high or low, Craig Counsell has to go with what his pitchers are feeling and what they're telling him. They said they were done, so they were done.
It's crucially important to listen to that as the manager, especially early on in the season. There's no reason to push those guys right now. It's April. If this was September or October, they'd most likely be able to go deeper into games, go to a higher pitch count, and push through a little more.
They aren't there yet, and that's perfectly fine. There's no need to further risk injury coming off a shortened season where the risk is already high, and push too hard this early in the season. Going an extra inning or two now would have minimal positive impact and carries a higher chance of a major negative impact.
Eventually, we'll likely see Woodruff and Burnes and the rest of the rotation able to go 100 pitches or more in outings, but there is no reason to be concerned that they aren't there right now. The rotation is the key to success for the Brewers right now. It is the best performing position group on the team. The Brewers cannot afford an injury to that group.
Just remember that pitch counts will be a little lower than what we've normally seen for a little while. That's by design as they slowly ramp these pitchers up and try to protect them from injury as much as possible. It's much preferable to only see Woodruff and Burnes for six innings in a game than to see them injured for six weeks because they were pushed too early.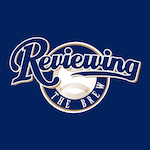 Want your voice heard? Join the Reviewing The Brew team!
Write for us!
The pitchers will let Counsell know how they feel and when they're ready to be taken out. If they feel they're done at 74 or 86 pitches, then they're done.