Brewers: What Role Might Dee Strange-Gordon Play for the Crew?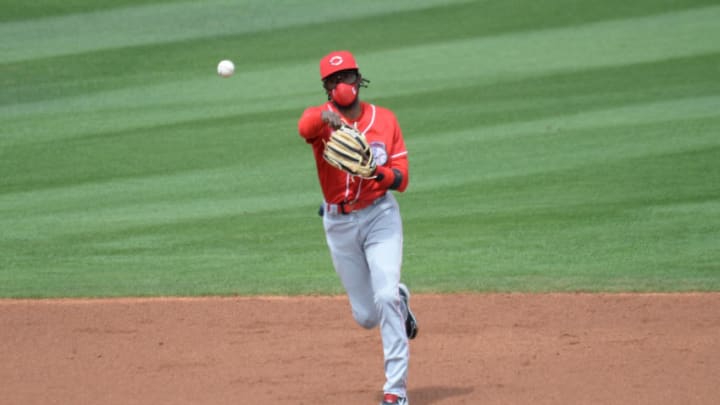 Mar 15, 2021; Tempe, Arizona, USA; Cincinnati Reds shortstop Dee Strange-Gordon throws to first base against the Los Angeles Angels during the first inning at Tempe Diablo Stadium. Mandatory Credit: Joe Camporeale-USA TODAY Sports /
After what seemed to be a very long intake protocol, veteran infielder and former Christian Yelich teammate Dee Strange-Gordon was officially signed with the Milwaukee Brewers to a minor league contract on April 21st.
Strange-Gordon spent his spring with the Cincinnati Reds after spending three seasons with the Seattle Mariners. After a position move for Eugenio Suarez and some younger players emerging, there was no room for Dee and he was released. The 33-year-old then appeared on Milwaukee's radar.
At first, it seemed to be a minor league signing for additional depth if needed. Now a month into the season, there has already been a trade and multiple injuries and obstacles. That means the original role of Strange-Gordon has already changed. There are multiple ways he can be used this season.
Dee Strange-Gordon's role might be a simple one: a replacement for Daniel Robertson or Jace Peterson as an additional utility infielder for the Brewers.
Strange-Gordon is a career .286 hitter, has 333 career stolen bases, 1,100 hits, and 234 RBIs. He doesn't have a power bat, but he can get on base and bring some steals for the Brewers.
Meanwhile, over 38 at bats this year, Daniel Robertson only has four hits and has a .105 batting average. Jace Peterson is doing a little better with a .208 average, two home runs and four RBIs. They are very serviceable players, but someone like Strange-Gordon should be an upgrade.
Before the season started, Robertson was going to be a utility infielder when the Brewers needed it. That all changed very quickly. Orlando Arcia was traded to the Atlanta Braves for two right-handed pitchers. Kolten Wong went on the injured list. Then, after hitting a home run against his former team, Luis Urias also had to sit the rest of the series against the San Diego Padres.
All of a sudden, Robertson and Peterson were in the starting lineup. Utility players like them are fine to plug in, but are not day-to-day starters like Strange-Gordon has been throughout his career.
With Wong and Urias now healthy, it could be likely Dee takes that utility infielder role unless Robertson or Peterson start to get hot at the plate. Peterson also just landed on the injured list with a recurring left thumb injury, which improves the the newly signed infielder's chances.
Another potential role for Strange-Gordon is as a part-time replacement for Keston Hiura if he is optioned by the Brewers to the minors to figure out his hitting.
No one wants to see this happen. But if Keston Hiura can't starting hitting the ball, he may need to spend some time in the minors to figure some things out. He is supposed to be one of the backbones of hitting for Milwaukee. But after exploding on to the scene when he was first brought up in 2019, Hiura hasn't matched the magic of that year.
After a disappointing 2020, Keston is hitting just .145 with five RBIs and only one home run in 2021 so far. There is plenty of season left, but if his stats repeat themselves the next month, something will need to change.
You don't want to kill a player's confidence or upset one of the major pieces of your team. But you also can't have a .150 hitter on your everyday roster. A minor stint down in the minors could relieve some pressure for Keston and clear his head. It wouldn't even have to be very long. Pick a week where the Brewers have a couple of off days and not a string of road trip games.
Wong would play second, and Daniel Vogelbach can split time at first with Billy McKinney if need be while Hiura is gone and when Yelich returns. Strange-Gordon would then take that infield spot to back up second base, shortstop, and third.
If anything, Dee Strange-Gordon is a solid left-handed bench bat and pinch runner that would be useful for the Brewers.
It may be as simple as the fact that the Brewers can improve their bench bats with a solid left-handed hitter. Milwaukee has had a lot of success so far with their left-handed heavy lineups. Robertson is right-handed and Peterson is left-handed, but Dee has a much better career batting average.
They also face a lot of right-handed starters in the NL Central. The St. Louis Cardinals and Chicago Cubs have all right-handed starting pitchers, the Cincinnati Reds only have lefty Wade Miley for now, and the Pittsburgh Pirates have Tyler Anderson. That is a lot of opportunities for a career .286 left-handed bat.
Strange-Gordon would also be the perfect pinch runner for the Crew. Some of their best bats don't have the greatest speed. Say you are in the eighth or ninth inning and in a close game. If Vogelbach or Travis Shaw get on base with a single or double, Dee would be the perfect player to plug in.
Strange-Gordon adds some speed with his 333 career stolen bases. Over their entire careers, Robertson has five total stolen bases and Peterson has 40. Having Strange-Gordon is definitely a great go-to runner if needed.
No matter what his role is, it would be reasonable to expect Dee Strange-Gordon up and on the Milwaukee Brewers roster by the All-Star break.