Brewers: Six Years In As Manager, Craig Counsell Proven Perfect For The Job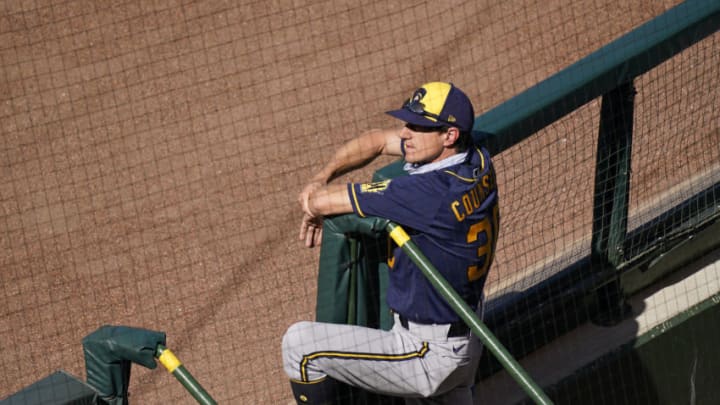 CHICAGO, ILLINOIS - AUGUST 16: Manager Craig Counsell #30 of the Milwaukee Brewers stands in the dugout during the seventh inning of a game against the Chicago Cubs at Wrigley Field on August 16, 2020 in Chicago, Illinois. (Photo by Nuccio DiNuzzo/Getty Images) /
Six years ago today, on May 4th, 2015, the Milwaukee Brewers named Craig Counsell the manager of the Brewers. Ron Roenicke's team collapsed in 2014 and struggled in the first month of 2015 and the rebuild began.
The first cornerstone of that rebuild was laid in place when Counsell was installed in the manager's chair.
Craig Counsell had a long career playing in the big leagues and spent several years as a member of the Brewers. After he retired from playing, Counsell was in the Brewers front office as a Special Assistant to the GM, Doug Melvin.
While some may have thought the Notre Dame grad was destined for a bigger role in the front office going forward, those who knew Counsell knew that he would make an excellent manager. So as soon as the opening popped up in Milwaukee, Counsell was a perfect fit, and not just because he grew up in Whitefish Bay.
After six full years as Brewers manager, Craig Counsell has proven to be the best man to lead this franchise.
Counsell proved this earlier, but it's an important point to remember. When most franchises go through a rebuild process, they get the GM in place first and then have the GM pick the manager he wants. But the Brewers installed Counsell a few months before Doug Melvin announced he was stepping down. Principal Owner Mark Attanasio publicly stated that Counsell was the manager and the next GM would have to accept that.
Sometimes that doesn't work out, but Counsell and David Stearns have struck up a great relationship and it's proven to be quite fruitful over the last six years.
Counsell's knowledge of analytics and how to use them combined with his experience as a player and ability to relate to and communicate with his players helps him get the best out of his roster every single season.
This can be reflected a couple of different ways. Each of the past four seasons, Craig Counsell has received votes for Manager of the Year. He finished 2nd in both 2018 and 2019 and probably should've won at least one, if not both, of those years.
His success and brilliance as a manager can also be reflected in the culture he has created in that Milwaukee clubhouse.
Counsell's teams have shown a lot of the same qualities from year to year, despite some of the faces changing. Counsell's teams have a lot of fun, but don't do a lot of the bat flips or anything that old school baseball guys would think is disrespectful. His teams have a close-knit group of guys. His teams have players willing to play out of position to help the team.
His teams as a whole are greater than the sum of their parts. Counsell always seems to get more out of his rosters than people expect. All those qualities and characteristics previously listed go into the result of the whole being greater than the sum of its parts.
Counsell is a steady presence and has earned the reputation as a "player's manager". The players love playing for Counsell. You've seen that in the comments from guys like Luke Maile, Christian Yelich, Brent Suter, and so many others over the previous six years. The clubhouse and winning culture he's built and the relationship he has with his players is second to none.
Counsell's contract has been extended a couple of times already and he is going to be the Brewers manager for quite a while. He comes into his six year anniversary as manager with a 451-424 record (.515 winning percentage), and has the third-most wins of any manager in franchise history, behind Ned Yost and Phil Garner. Counsell will surpass Yost later this season.
The Brewers made the right choice to move on from Ron Roenicke in 2015, and who they installed as manager could've helped build something special or torpedo their chances at success. They chose Counsell, and it's clear he's built something special.
It's hard to believe it's already been six years since Counsell was installed as the manager. What a wild six years it has been.