Brewers: Freddy Peralta Makes More History, Passes All-Time Great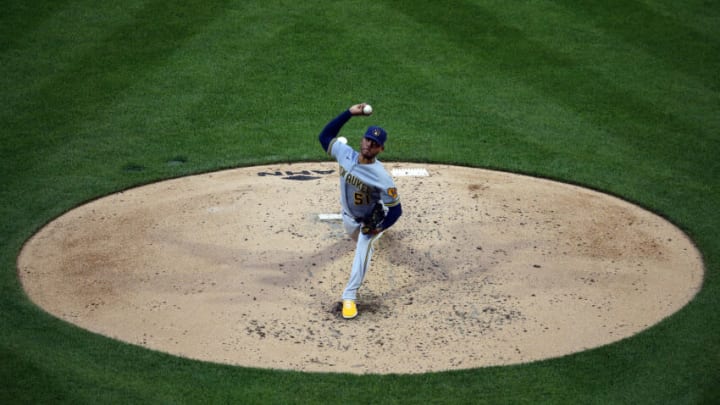 PITTSBURGH, PA - JULY 29: Freddy Peralta #51 of the Milwaukee Brewers pitches in the third inning against the Pittsburgh Pirates during the game at PNC Park on July 29, 2021 in Pittsburgh, Pennsylvania. (Photo by Justin K. Aller/Getty Images) /
Freddy Peralta just did something even Nolan Ryan never did. And he still has a few more starts to cushion his lead ahead of any other pitcher in history.
The Brewers 1-2-3 punch at the front of their starting rotation are doing things that are unheard of. Corbin Burnes etched his name in the history books to start the season, Brandon Woodruff was missing barrels at a record pace and now Freddy Peralta has passed one of the best pitchers of all-time in a stat category.
A guy that used to rely heavily on striking out hitters to get outs is now finding out more ways to get the opposing batters out. In his most recent outing against the Pirates he went 6.0 innings allowing only two hits and not surrendering a run, with five punch outs.
The Milwaukee Brewers could not ask for much more out of Freddy Peralta and their rotation with all the records they have broken in 2021.
Four pitch Freddy is still striking out batters at a crazy pace (94th percentile), let's not take that away from him. But he's getting fly balls at a much higher clip. He strikes out hitters 35% of the time (down 2.6% from last year), ground balls at 31.6% and fly balls at 34% which is up an astonishing 10.2% from last year. That's a very even distribution and that makes it very hard on hitters.
Now you may ask, how are Freddy's innings per start compared to Nolan Ryan's? Well there's little to no discrepancy. In his 12 games that Freddy's started and gave up two or fewer hits, he's averaged 5.7 innings pitched. Nolan Ryan averaged 5.9 innings per start in 1991 where he had 11 and he averaged 5.4 innings per start in 1986. Oh and starters this year were limited on their innings after a shortened 2020 season, so Peralta could easily have logged more innings.
It's absolutely amazing what the Brewers top three starters are doing. Entering July 30, Corbin Burnes has a 2.12 ERA with 146 strikeouts, Brandon Woodruff has a 2.14 ERA also with 146 strikeouts and Freddy Peralta has a 2.17 ERA with 145 strikeouts. It's been a pleasure to watch these three in particular go about their business.
What this Milwaukee rotation is doing are things that have never been seen before in modern baseball. It's a special group and the accolades keep on coming.
Congratulations to Freddy for passing one of the all-time greats.