Brewers: What Justin Topa's Injury Means For The Bullpen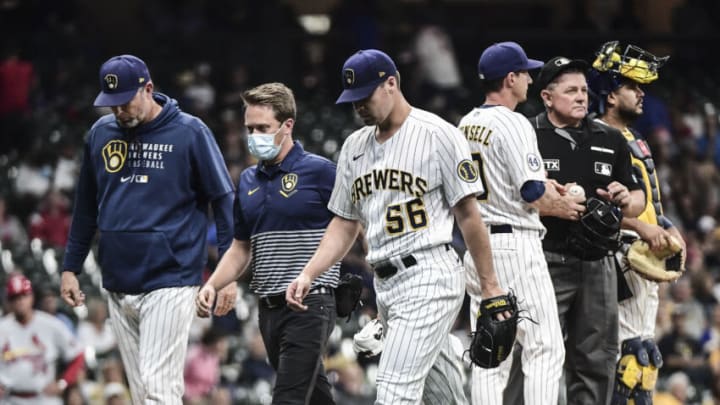 Sep 3, 2021; Milwaukee, Wisconsin, USA; Milwaukee Brewers pitcher Justin Topa (56) leaves the game against the St. Louis Cardinals after suffering an apparent injury in the third inning at American Family Field. Mandatory Credit: Benny Sieu-USA TODAY Sports /
The Milwaukee Brewers lost an important bullpen piece on Friday night as Justin Topa left the game with an injury.
After a fantastic MLB debut in 2020, Justin Topa had solidified himself in the Brewers bullpen picture heading into 2021. With a blazing fastball and a nasty slider, the 30 year old Topa looked like he could've been quite the diamond in the rough find after battling numerous injuries in his career, including two Tommy John surgeries and some stints in independent ball.
Then, just as spring training was wrapping up this year, Topa suffered another elbow injury, a flexor strain, that completely wiped out the first half of the season for him. The Brewers bullpen depth took a hit there, and they were on the edge of that depth for a little while.
He first came back to the Brewers in August after a lengthy rehab assignment. He was brought up again with the September roster expansion and was slated to have a key role in that bullpen.
Then Friday night happened.
After throwing a pitch to Tommy Edman, Topa winced in pain, the athletic trainer came out and Topa was removed from the game with a right elbow injury, a bad sign for a player with numerous elbow issues before.
Potentially losing Justin Topa for an even longer period of time is a blow to the Brewers bullpen.
While they've survived most of the season without Topa, he was supposed to be pitching in big spots this year and his stuff is as nasty as anyone's in that bullpen. After the game, Craig Counsell said immediately they knew it would be an IL stint.
Elbow injuries are tricky, and especially so for players with Topa's injury history. While they haven't released more details on Topa as of this article's publication, it's likely that his 2021 season is done. If there's any sort of issue beyond minor inflammation or something that won't cause him to shut down throwing for too long, then there's not enough time for him to return in 2021.
Once again, the Brewers bullpen depth is taking a hit.
Topa could handle those bridge innings to get from the starter to the trio of Boxberger-Williams-Hader in the late innings and could even stand in for one of those late inning guys if they needed a day off. Jake Cousins can also fill that role, and perhaps Hunter Strickland as well, but there's not many extra high-leverage arms, and certainly not many with the pure stuff that Topa has.
Who could replace Topa in the Brewers bullpen?
The Milwaukee Brewers still have a few options in Triple-A to fill the bullpen spot that is now open. Miguel Sanchez, who has been in the Brewers bullpen earlier in the year and done a solid job is an option, as is Jandel Gustave, who has been on the Covid IL for a few weeks and has been on a rehab assignment in Triple-A.
There is still Eric Yardley as an option and potentially Alec Bettinger or Dylan File if the Brewers want someone with some length.
One other option the Brewers should consider is Luke Barker. The closer for the Nashville Sounds has been having another strong season and is deserving of an opportunity in the big leagues.
Whatever the Brewers end up doing, losing a player like Topa is a tough blow, both emotionally and roster construction-wise.
Staying healthy is going to be the key for the Brewers down the stretch, and the Brewers can ill afford to lose more bullpen options to injury.