Brewers: Corbin Burnes Vaults Into Cy Young Frontrunner Status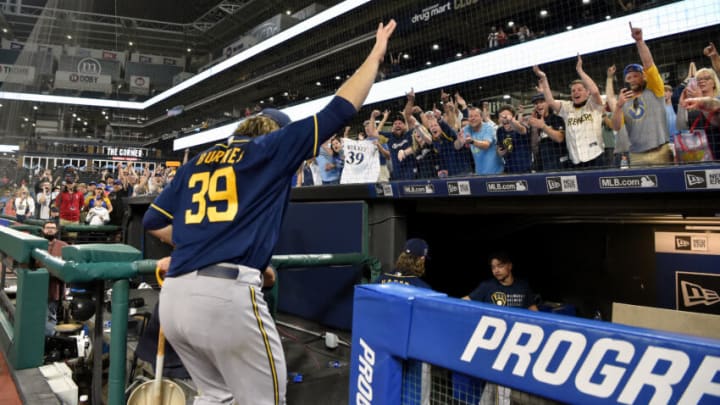 CLEVELAND, OHIO - SEPTEMBER 11: Starting pitcher Corbin Burnes #39 of the Milwaukee Brewers waves the the fans as he leaves the filed after throwing a combined no-hitter to defeat the Cleveland Indians at Progressive Field on September 11, 2021 in Cleveland, Ohio. The Brewers defeated the Indians 3-0. (Photo by Jason Miller/Getty Images) /
If it wasn't obvious before, it should be now. Brewers ace Corbin Burnes is the frontrunner for the NL Cy Young award in 2021.
Milwaukee hasn't had a Cy Young winner since 1982, coincidentally the last year the Brewers went to the World Series. At least one, perhaps both of those statements could change this year.
As soon as Mets ace Jacob deGrom hit the injured list, the NL Cy Young race became wide open, and anyone could take charge to win it. Burnes has taken that challenge head on.
He's been in the race with several other viable contenders, including Walker Buehler, Max Scherzer, Zack Wheeler, Kevin Gausman, and even his own teammate Brandon Woodruff. But after Saturday night, Burnes should clearly be ahead of them all.
Corbin Burnes' combined no-no should help vault the Brewers ace to frontrunner status for the 2021 Cy Young.
As fantastic as Burnes has been all year, other pitchers have been having great seasons, and he'd need a standout performance or two to win the award. That standout performance came on Saturday night when he went eight no-hit innings, allowing just one walk, and striking out 14.
None of the other Cy Young candidates to this point have a no-hitter, combined or solo, under their belts this season. That very much improves Burnes' case, even if his own was a combined bid. It's not like Burnes only had five or so innings of it, he did most of the work.
If this feat itself isn't enough convincing, Burnes' standing in several statistical categories should settle it once and for all.
Corbin Burnes leads the league in those 10 important categories, all of which signify how dominant Burnes has been this season. Not only is he leading the way in a traditional stat like ERA, but also in WAR, FIP (second-best FIP season in MLB history), his expected ERA and FIP, his strikeout-walk ratio, his barrel rate, and others.
What does all of that mean? It means Burnes is the best in baseball at limiting runs, limiting hard contact, limiting baserunners, throwing strikes, and providing value to his team. All of that defines exactly what the Cy Young award should be and who that award is meant for.
The Brewers have the best pitcher in baseball in Corbin Burnes. If he wasn't the frontrunner for the award before, he should be now. So long as he has enough innings to qualify, meaning he reaches 162 IP, he should win the award. If he reaches that, there better not be any arguments about Burnes having "fewer innings" than other contenders.
Despite Burnes' fewer innings, he still has the highest WAR, which shows he's been far more dominant than the others. It's not Burnes' fault either the Brewers decided to give their starters extra days of rest this year to keep them healthy after a shortened workload last year that everyone experienced.
Right now, there is no doubt that Corbin Burnes should be considered the frontrunner for the 2021 NL Cy Young.