Brewers: The Bullpen's end of the year report card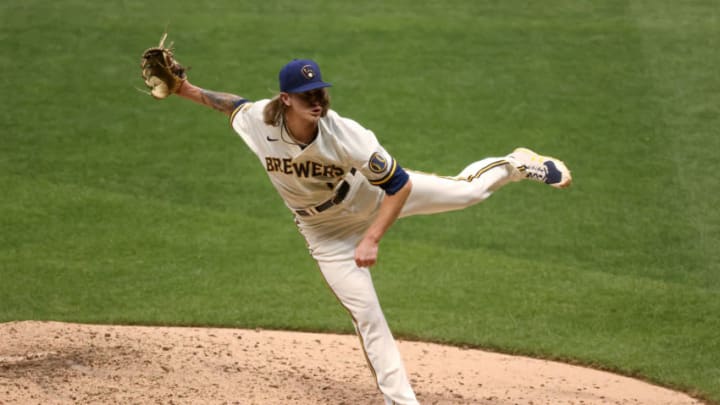 MILWAUKEE, WISCONSIN - AUGUST 24: Josh Hader #71 of the Milwaukee Brewers pitches in the eighth inning against the Cincinnati Reds at Miller Park on August 24, 2020 in Milwaukee, Wisconsin. (Photo by Dylan Buell/Getty Images) /
The Milwaukee Brewers have been home to the one of the most dominant bullpens in the major leagues over the last several seasons. In 2021, the Brewers bullpen was good but not elite like we've grown accustomed to.
The tone was set early in the season when the Brewers traded a pair of promising relievers in J.P. Feyereisen and Drew Rasmussen in exchange for shortstop Willy Adames. This was a perceived area of strength they traded from to improve the shortstop position – and I think it's fair to say this trade was a steal regardless of how the former players perform moving forward.
This did however leave the bullpen a little thin and constantly left the Brewers looking for contributions from some unlikely heroes. In total, the Brewers would have 32 pitchers on the bump making relief appearances in 2021 (yes, this includes a couple position players).
Through all the shuffling the Brewers may have found a keeper in relief pitcher, Jake Cousins. At 27 years old, Cousins posted a 2.70 ERA with 44 strikeouts in 30 innings pitched. Cousins also had a BABIP much lower than league average (.241), and a GB% of 46.6% which is right in line with what the Brewers want to see. Not to mention his opponents batting average was a mere .158 – that'll play.
The Brewers bullpen had an ERA of 4.02 which ranked 14th in the major leagues, and 8th in the NL. The bullpen also ranked 4th in the majors in total strikeouts (712) in 588.1 innings pitched (19th in the MLB). The innings pitched being on the lower end is a positive, and is largely indicative of the Brewers rotation pitching deeper into games than in years past.
The Milwaukee Brewers back-end of the bullpen
Josh Hader: 60 appearances, 1.23 ERA, 102 K's in 58.2 innings pitched
Devin Williams: 58 appearances, 2.50 ERA, 87 K's in 54 innings pitched
Brad Boxberger: 71 appearances, 3.34 ERA, 83 K's in 64.2 innings pitched
The overall bullpen ERA of 4.02 is somewhat deceiving, and may not tell the entire story of their dependability.
Josh Hader is without a shadow of a doubt, the best closer in baseball. He was deployed in a more traditional fashion this season, only pitching in one-inning scenarios unless the game was tied or a save opportunity presented itself. Hader would convert 34 of his 35 save opportunities on the season with a NL leading 102 strikeouts (15.6 K's per 9). Josh Hader's dominance played a big role in the Brewers going 76-1 in games they were leading after eight innings.
The bullpen's success extended beyond Josh Hader too, of course. The trio of Boxberger, Williams, and Josh Hader had a tendency of closing the door on opponents, which led to a 71-4 record when leading after seven innings. In short, they were spectacular on the back end.
Milwaukee Brewers individual pitching grades:
Josh Hader: 1.23 ERA in 58.2 innings pitched.
Converted 34/35 save attempts.
102 strikeouts in 58.2 innings.
.127 opponent batting average
Grade: A+
Devin Williams: 2.50 ERA, 1.19 WHIP, 87 SO, 54 IP.
Held opponents to .161 batting average.
Grade: B+
Brad Boxberger: 3.34 ERA, 1.06 WHIP, 83 SO, 64.2 IP.
One of the Brewers most cost effective signings this season. Boxberger helped make up a strong back end of the bullpen.
Grade: B
Jake Cousins: 2.70 ERA, 1.17 WHIP, 44 SO, 30 IP.
Huge find for Milwaukee, should be a fixture in next year's bullpen.
Grade: B
Aaron Ashby: 4.55 ERA, 1.16 WHIP, 39 SO, 31.2 IP.
Brent Suter: 3.07 ERA, 1.06 WHIP, 69 SO, 73.1 IP.
Vultured 12 Wins
Covered 2 or more innings 12 times.
Grade: B-
Hunter Strickland: 1.73 ERA, 0.91 WHIP, 38 SO, 36.1 IP.
Grade: B+
It was far from the dominant top to bottom bullpen of years past, but they were reliable to say the least. Yes, there was a revolving door that covered the middle innings, but the back end of the bullpen was one of the best in the majors. Solid season overall.