Brewers Select Wisconsin Native Boushley In MiLB Rule 5 Draft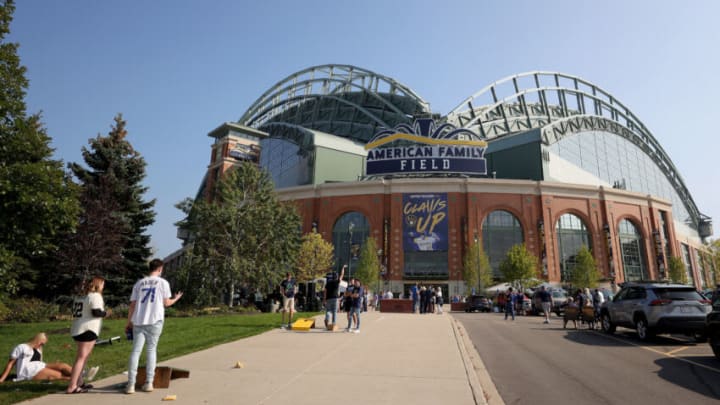 MILWAUKEE, WISCONSIN - OCTOBER 09: General view outside of American Family Field before the game 2 of the National League Division Series between the Atlanta Braves and Milwaukee Brewers at American Family Field on October 09, 2021 in Milwaukee, Wisconsin. (Photo by Stacy Revere/Getty Images) /
Bring him home! In the minor league rounds of the Rule 5 Draft this year, the Milwaukee Brewers have selected righty Caleb Boushley (Boz-lee), a native of Hortonville, WI and a graduate of the University of Wisconsin-La Crosse.
Because of the MLB lockout, the MLB portion of the draft did not occur today, but minor league transactions are still allowed as these are not 40 man roster moves. So Boushley will not be added to the Brewers 40 man roster, but instead will be added to the Triple-A Nashville Sounds roster. However, they will be able to place Boushley anywhere in the minor league system.
The Milwaukee Brewers selected Caleb Boushley, a UW-La Crosse graduate, in the first round of the 2021 MiLB Rule 5 Draft.
In the interest of full disclosure, I will tell you that I played with Boushley, aka "Boz" at UW-La Crosse in the 2015-16 school year.
I'd like to tell a story from late winter/early spring practice that year, before the season got underway. It was an indoor practice, and we were doing some live BP in the cages. Boushley was slated to pitch a few innings in the live cage, and a whole group of us freshmen pitchers stood behind the cage, watching and learning.
He got ahead of one of the hitters 0-2 in the count, and he turned around to look at us and told us "Alright boys, listen up, I'm gonna throw a fastball inside corner at the knees, and he's either going to swing and miss or not even swing at all".
As he promised, his next pitch was a fastball, inside corner, at the knees, and whoever was batting, I forget who it was, was completely frozen. Boz walked off the mound with a hell of a K strut and all us freshmen pitchers watching went nuts.
It should come as no surprise, but Boz was the ace of that La Crosse staff, finishing that season with a 2.20 ERA in 94 IP and leading the team to its second straight College World Series appearance. In 2017, he led the way again with a 1.75 ERA in 103 IP of work and was a 33rd round selection of the Padres that year.
Since then, Boushley has worked his way up the Padres system mostly as a reliever. In 2019, he started 10 games out of 26 appearances and had a 3.61 ERA. In 2021, he spent a lot more time as a starter. He made eight starts in Double-A and had a 3.79 ERA, then earned a promotion to Triple-A and posted a 5.85 ERA with 15 starts in 16 appearances.
He's had more success in the minors as a reliever than a starter and now that he's in the Brewers organization, his best path to crack the big leagues is most likely as a reliever.
Boz will provide plenty of fun and character wherever he goes in the Brewers organization, similar to what Brent Suter brings. He's a great guy to have in the clubhouse and a teammate guys want to have on their side. A few minor league Rule 5 picks from last year made their MLB debuts in 2021, including Tyler Gilbert of the Diamondbacks who threw a no-hitter.
Boushley will likely start 2022 either in Double-A or Triple-A, and if he performs well he could push his way to a bullpen spot in Milwaukee.
The 27 year old was left unprotected by the Padres and the Milwaukee Brewers took an opportunity to add a talented, local arm that could have a future in their big league bullpen.