Brewers Select College Shortstop In Very Early 2022 MLB Mock Draft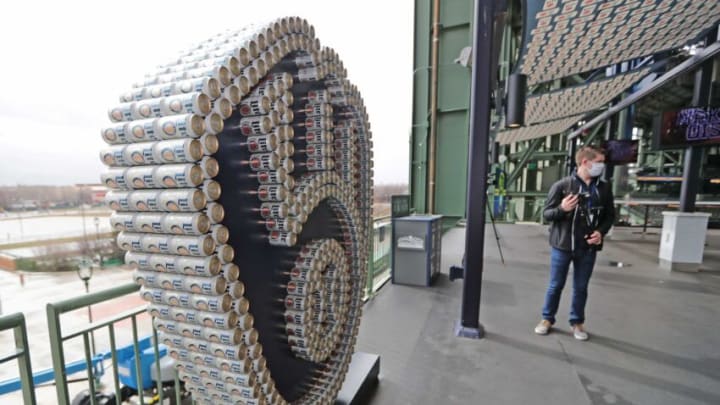 A Brewers glove logo, formed out of Miller Lite beer cans, is located in the Miller Lite Landing.Brewers Bernie 00590 /
One of the most important aspects for franchises to build winning teams is the MLB Draft. It's generally overlooked and those players are a few years away from contributing to the big league club, but it's still extremely important, especially for a team like the Brewers.
While the NFL has a much larger "mock draft" industry with fans and pundits alike trying to guess where players will be selected, MLB mock drafts still happen.
Granted, the Draft is in July and it is currently January. No one has started their spring season yet and a lot can change between now and the Draft. But that hasn't stopped one site, Prospects Live, from putting out a mock draft already.
Who could the Milwaukee Brewers select in the first round of the 2022 MLB Draft?
The Brewers are currently slated to have the 27th overall pick in the Draft this year (barring any changes in the next CBA), and with that selection, the guys at Prospects Live have the Crew selecting… Zach Neto, a shortstop from Campbell University.
Neto had an excellent season at the plate last year for the Campbell Fighting Camels (yes, that's their school's nickname), hitting a cool .405/.488/.746 with 17 doubles, 12 homers, and 58 RBIs. He was named the Big South Conference Player of the Year in 2021.
Neto was also quite versatile, spending at least some time at each of the four infield spots and had a few appearances on the mound, racking up 21 innings. He had a 3.43 ERA in those innings, but also walked 15 batters.
The Brewers currently have a solid crop of shortstops in their system, with Willy Adames leading the way from the big league club, Brice Turang closely behind him, as well as Freddy Zamora, Hayden Cantrelle, and Eduardo Garcia. Although that group did take a hit when David Hamilton was traded to Boston for Hunter Renfroe.
You can never have enough shortstops, and although Neto should have the defensive chops to stay at the position, he also clearly has the positional versatility to play other spots on the diamond, which historically the Brewers have liked.
2021 was Neto's first season as a starter for Campbell, and it was great. But he'll have to repeat that kind of performance if he's going to become a first round pick this year.
Granted, these mock drafts should be taken with lots of grains of salt. It's very early in the process, no one has played yet, and the Brewers pick very late in the first round. When inside the top five or ten picks, then there may not be as much variety in the names of players connected to a team. But when you're picking 27th, anything can happen.
Some players that were expected to go early may fall, a lot of things can happen, and accurately predicting the draft that late, is a nearly impossible task. Still, it's a fun exercise to help fans get to know the names of potential draft picks.
The last time the Brewers picked this late in the draft was 2019, when they selected Ethan Small, who wasn't really on anyone's mock draft going to the Crew at that spot.