Milwaukee Brewers: 15 Greatest Pitchers in Franchise History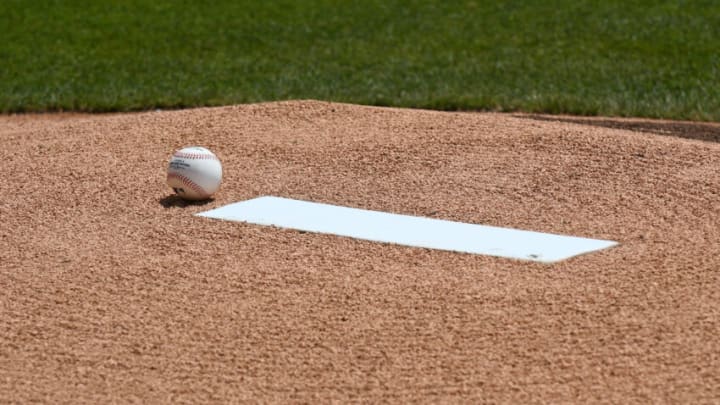 DETROIT, MI - JULY 30: A detailed view of an official Major League baseball sitting on the pitchers mound next to the rubber prior to the start of the game between the Detroit Tigers and the Houston Astros at Comerica Park on July 30, 2017 in Detroit, Michigan. The Tigers defeated the Astros 13-1. (Photo by Mark Cunningham/MLB Photos via Getty Images) /
MILWAUKEE, WI – OCTOBER 1982: Jim Slaton #41 of the Milwaukee Brewers pitching during Game 4 of the 1982 American League Championship Series against the Milwaukee Brewers on October 9, 1982 in Milwaukee, Wisconsin. (Photo by Ronald C. Modra/Getty Images) /
Here is a ranking of the 15 greatest pitchers in Milwaukee Brewers franchise history.
14. RHP Jim Slaton
12 seasons, 117-121, 2025.1 IP, 15.4 bWAR, 3.86 ERA, 1.389 WHIP, 11 saves
There is something to be said about longevity and Jim Slaton had plenty of that for the Brewers. Originally drafted in the 15th round in 1969 when Milwaukee was still the expansion Seattle Pilots, Slaton would get his first taste of big-league action in 1971.
Slaton would finish 10-8 in that first MLB season while putting up a 3.78 ERA and a 1.429 WHIP. As it turned out, his career stats with the Brewers wouldn't stray too far from that mark. Some seasons would look a little better, while some would look a little worse.
Slaton would earn his only career All-Star nod in 1977 when he went 10-14 with a 3.58 ERA and a 1.357 WHIP. The following offseason, Milwaukee would trade him to the Tigers for Ben Ogilvie before Slaton would sign right back with the Brewers as a free agent before the 1979 season.
Slaton would start for the Brewers for a few more years before he would mostly be deployed as a reliever for his final two years in Milwaukee. All 11 of his career saves with the Crew would come those two years before the team moved on from him for good after 1983.
As a result of his long tenure with the club, Slaton sits atop the career franchise leaderboards by a good margin in both innings pitched and games started. He also has the most wins, losses, and shutouts in team history while giving up the most walks, hits, homers, and earned runs of any Brewers pitcher ever.
13. RHP Pete Vuckovich
5 seasons, 40-26, 533 IP, 5.0 bWAR, 3.88 ERA, 1.465 WHIP
Of the starters on this list who aren't still currently pitching in the league, Pete Vuckovich threw less innings than all but one of them (who we will get to shortly). But boy were a couple of his biggest seasons important ones for the Brewers franchise.
Vuckovich had begun to make a name for himself in the late 70s as a starter for the St. Louis Cardinals. After the 1980 season, though, he was packaged with future Hall of Famers Rollie Fingers and Ted Simmons in a franchise-altering trade to the Brewers for Sixto Lezcano and three others.
Vuckovich was good as advertised in his first season for the Crew. He led the AL in the strike-shortened 1981 season with 14 wins, had a 3.55 ERA, and finished 4th in Cy Young voting in helping the Brewers reach their first postseason in franchise history, a loss in the ALDS to the New York Yankees.
The next season, Vuckovich had his finest season as a Brewer while almost helping lead the team to the promised land. He went 18-6 during the 1982 season, dropping his ERA to 3.34 and claiming the franchise's second ever Cy Young award.
He also helped lead the team to their first and only World Series appearance in franchise history. Vuckovich would start the pivotal game seven of that series, giving up three earned runs on ten hits and two walks over 5 1/3 innings in the eventual loss to the Cardinals.
Vuckovich would make just 31 more starts over the next four seasons for the Brewers, missing most of the 1983 and all of the 1984 season due to a rotator cuff injury. He still sits as Milwaukee's franchise leader in career win percentage (.606).