Milwaukee Brewers: 15 Greatest Pitchers in Franchise History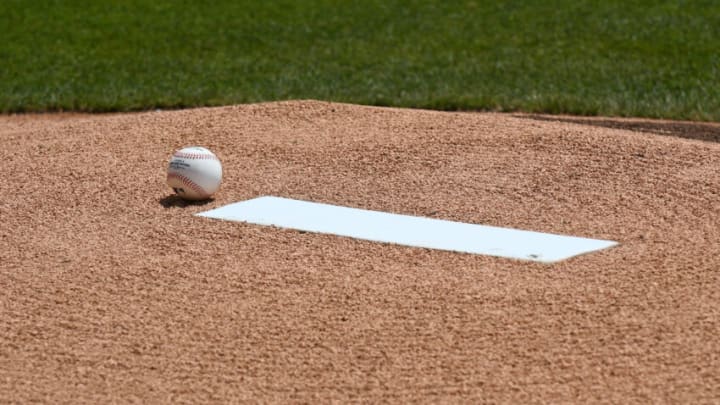 DETROIT, MI - JULY 30: A detailed view of an official Major League baseball sitting on the pitchers mound next to the rubber prior to the start of the game between the Detroit Tigers and the Houston Astros at Comerica Park on July 30, 2017 in Detroit, Michigan. The Tigers defeated the Astros 13-1. (Photo by Mark Cunningham/MLB Photos via Getty Images) /
MILWAUKEE – SEPTEMBER 28: CC Sabathia of the Milwaukee Brewers in the locker room as he and the Brewers celebrate clinching the National League Wild Card after the game against the Chicago Cubs at Miller Park on September 28, 2008 in Milwaukee, Wisconsin. The Brewers defeated the Cubs 3-1. (Photo by Darren Hauck/Getty Images) /
Here is a ranking of the 15 greatest pitchers in Milwaukee Brewers franchise history.
12. LHP CC Sabathia
1 season, 11-2, 130.2 IP, 5.2 bWAR, 1.65 ERA, 1.003 WHIP
How do you end up on a list of the 15 best pitchers in Brewers franchise history when you only pitch in part of one season for that team? The answer is when that season is one of the most dominant ones the franchise has ever seen.
Attempting to end a playoff drought that was approaching three decades long in 2008, Milwaukee decided to go bold that July when they traded for three-time All-Star and 2007 AL Cy Young winner CC Sabathia in a deal that sent away future All-Star Michael Brantley, among others.
To say Sabathia's impact was immediate would be an understatement. Game one was a six-inning, two-earned run win. Game two was a two-run complete game win in which the lefty even snuck a solo home run, the first of his Brewers career, just over the right field fence.
That first month with the Brewers saw him win four out of five starts and throw three complete games with one being a three-hit shutout. Sabathia continued to roll on from there.
His finest game of the regular season for last, though. On September 28th of that year, Sabathia again went nine innings, giving up just one unearned run on four hits and a walk with seven strikeouts, leading the Brewers to a 3-1 win over the rival Cubs and, more importantly, propelling the team to their first playoff appearance since 1982.
Sabathia would finish 5th in NL Cy Young voting and 6th in NL MVP voting that year despite making just 17 starts for the Brewers. His 4.9 bWAR (pitching only) is tied for the 15th highest single season mark in team history….on only 17 starts!
That's how you end up on a list of the 15 best pitchers in franchise history after not even pitching an entire season.
11. RHP Moose Haas
10 seasons, 91-79, 1655 IP, 15.7 bWAR, 4.03 ERA, 1.304 WHIP, 2 saves
Like Jim Slaton before him, Moose Haas was another in a line of long-tenured starters for the Brewers who helped the team eventually reach their first postseason. Unlike Slaton, Haas was still a starter when they got there.
Haas spent the first ten major league seasons of his 12-season career with Milwaukee after being drafted in the 2nd round out of high school in the 1974 draft. He spent his first full season in the majors in 1977 and was a permanent fixture in the rotation by the early 80s.
Haas picked up a pair of wins in the Brewers' 1982 playoff run, one each in the ALCS and World Series. 1983 saw arguably his finest season for Milwaukee, though, as he put up a 3.27 ERA and a 1.184 WHIP on his way to going 13-3 on the season. That .813 win percentage not only led the league, but it also still stands as the highest single season win percentage in team history.
Haas etched his name in another part of the Brewers record books when he punched out a franchise best 14 batters in a game against the Yankees in 1978. That record would stand until after the turn of the millennium when a player farther up this list would finally shatter it.
Milwaukee would eventually trade Haas to the A's just before the start of the 1986 season. After two seasons in Oakland, he would hit free agency, effectively ending his major league career.