Milwaukee Brewers: 15 Greatest Pitchers in Franchise History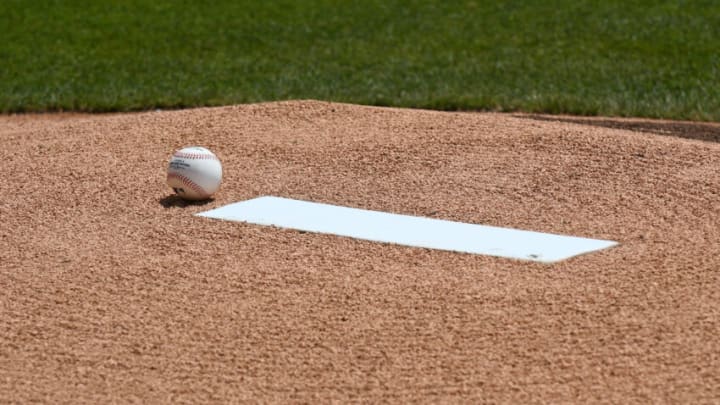 DETROIT, MI - JULY 30: A detailed view of an official Major League baseball sitting on the pitchers mound next to the rubber prior to the start of the game between the Detroit Tigers and the Houston Astros at Comerica Park on July 30, 2017 in Detroit, Michigan. The Tigers defeated the Astros 13-1. (Photo by Mark Cunningham/MLB Photos via Getty Images) /
MILWAUKEE, WISCONSIN – SEPTEMBER 18: Corbin Burnes #39 of the Milwaukee Brewers walks off the field in the game against the Chicago Cubs at American Family Field on September 18, 2021 in Milwaukee, Wisconsin. (Photo by Justin Casterline/Getty Images) /
Here is a ranking of the 15 greatest pitchers in Milwaukee Brewers franchise history.
10. RHP Chris Bosio
7 seasons, 67-62, 1190 IP, 18.6 bWAR, 3.76 ERA, 1.238 WHIP, 8 saves
In the period of time between the Brewers' playoff appearances in 1982 and 2008, there were plenty of lean years for the franchise. But that doesn't mean that there weren't at least a few bright spots both at the plate and on the mound.
Starting pitcher Chris Bosio was one of those bright spots in the late 80s and early 90s. Drafted in the 2nd round of 1982's winter draft, Bosio wouldn't make his MLB debut until 1986 when he made four starts in ten total appearances.
Bosio would go on to post winning records in four of his next six seasons for Milwaukee. His finest seasons came in 1989 when he posted a 2.95 ERA (the 11th lowest mark in club history) in 33 starts, as well as 1992 when he led the AL with a 1.712 BB/9.
Bosio finds himself in the top ten in a number of career franchise categories including ERA (3.76, 10th), WHIP (1.238, 7th), wins (67, 8th), strikeouts (749, 6th), and pitching bWAR (18.6, 3rd).
9. RHP Corbin Burnes
4 seasons, 23-11, 313.2 IP, 6.3 bWAR, 3.39 ERA, 1.103 WHIP, 2 saves
We've now hit the first in a run that includes the newest generation of Brewers pitchers. And to break the top ten with just over 300 innings under your belt, you have to be one heck of a pitcher. Well, that's exactly what Milwaukee has in Corbin Burnes.
Burnes was a 4th round pick of the Brewers in the 2016 draft class. Just two seasons later, he was already pitching important innings out of the bullpen for the 2018 playoff team, finishing that year with a 2.61 ERA and 1.000 WHIP over 30 appearances.
Unfortunately, 2019 was a disaster for Burnes and after being demoted as far as Double-A at one point in the season, the team had him retool some things at their pitching lab in Arizona. He was ready to come back with a vengeance in 2020.
And that's precisely what happened. Burnes transitioned to the rotation, posted another ERA below 3.00 and a WHIP around 1.000 while seeing his strikeouts per nine skyrocket up to 13.27. That was nothing compared to what 2021 had in store, though.
Burnes went from great to outstanding last season. He led all of MLB in ERA (2.43), HR/9 (0.37), and K/9 (12.61) while putting up a new career best 0.940 WHIP and 1.83 BB/9. The WHIP, K/9, and HR/9 marks now sit as the top single-season marks in Brewers history.
But Burnes was doing more than making Milwaukee history in 2021. He also set a new MLB record by recording 58 straight strikeouts without a walk and tied an MLB record by striking out 10 consecutive batters in a game.
Not only did all of that result in the first All-Star appearance of Burnes' career, but it also ended in him winning last year's NL Cy Young award, the third such win in franchise history. Even pitching as few career innings as he has, Burnes has put up one of the more impressive pitching resumes in team history.