Milwaukee Brewers: 15 Greatest Pitchers in Franchise History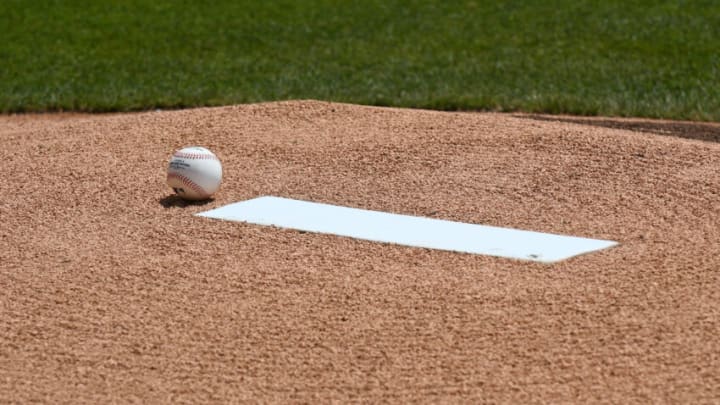 DETROIT, MI - JULY 30: A detailed view of an official Major League baseball sitting on the pitchers mound next to the rubber prior to the start of the game between the Detroit Tigers and the Houston Astros at Comerica Park on July 30, 2017 in Detroit, Michigan. The Tigers defeated the Astros 13-1. (Photo by Mark Cunningham/MLB Photos via Getty Images) /
MILWAUKEE, WISCONSIN – SEPTEMBER 06: Brandon Woodruff #53 of the Milwaukee Brewers throws a pitch during a game against the Philadelphia Phillies at American Family Field on September 06, 2021 in Milwaukee, Wisconsin. (Photo by Stacy Revere/Getty Images) /
Here is a ranking of the 15 greatest pitchers in Milwaukee Brewers franchise history.
8. RHP Brandon Woodruff
5 seasons, 28-21, 460 IP, 12.3 bWAR, 3.23 ERA, 1.070 WHIP, 1 save
After not having much success in the area for years, the Brewers find themselves in the middle of a nice stretch of developing some homegrown pitching. Right-handed starter Brandon Woodruff largely kicked off that recent trend.
Woodruff came to Milwaukee a couple years earlier than Burnes, having been drafted in the 11th round of the 2014 draft out of Mississippi State. He made a brief debut in 2017 before joining Burnes as a part of the 2018 playoff run. And though he pitched well that year, he's almost even more famous for a certain playoff hit.
While Burnes struggled in his first attempt at being made a starter in 2019, Woodruff did not. In 22 starts that season, he put up a 3.62 ERA and a 1.142 WHIP while also earning the first All-Star nod of his career.
Going into 2020 as the team's ace and Opening Day starter, Woodruff got even better as he lowered his ERA to 3.05, his WHIP to 0.991, and set a new career best mark in K/9 with 11.12 in 13 starts.
As if that wasn't enough, Woodruff got even better in 2021, dropping his ERA and WHIP to 2.56 and 0.965, respectively, and earning his second All-Star bid. Those would've easily ranked as the top numbers on the team had it not been for Burnes' Cy Young season (though Woodruff did place 5th in voting last year).
In just five seasons, Woodruff is already about to crack the top 10 in career pitcher's bWAR for the Brewers and likely will very early in 2022. He also has the 6th highest single season bWAR in franchise history (5.7, 2021), the 4th lowest ERA (2.56, 2021), and both the 2nd and 4th lowest WHIPs (0.991, 2020 and 0.965, 2021).
7. LHP Josh Hader
5 seasons, 16-13, 282.1 IP, 10.4 bWAR, 2.26 ERA, 0.854 WHIP, 96 saves
Our No. 7 spot brings us to our final pitcher from the current era of young Brewers hurlers. As good as the previous two were, though, Josh Hader has arguably been the most sustainably dominant of three and could already become the best closer in team history by the end of 2022.
Although Hader made his MLB debut with Milwaukee, he was not quite homegrown like Woodruff and Burnes were. The tall lefty called two organizations home before being traded from the Astros in a mega-deal during the 2015 season.
Hader had been groomed as a starter in the minors up until that point and was following the same path in the Brewers system upon first arriving there as well. But when he was called up for the first time in 2017, Milwaukee deployed him as a reliever. And boy did he excel in that role.
Hader would make 30 appearances that season, compiling a 2.08 ERA, 0.986 WHIP, and a 12.84 K/9. In 2018, he would combine with Corey Knebel and Jeremy Jeffress to form a three-headed monster at the back of the bullpen, reaching his first All-Star game, earning his first NL Reliever of the Year award, and even finishing 7th in Cy Young voting.
In 2019, Hader would become the team's new closer and rack up 37 saves in his first season in the role. That has been his been his home ever since where he has earned two more All-Star bids, two more NL Reliever of the Year awards, and is arguably the most dominant closer in all of MLB.
Hader has never had a WHIP above 1.000, never had a K/9 below 12.84, and has never allowed batters to hit over .156 against him for a season. He is already fourth on the team's career saves list (96) and could possibly take the franchise lead by the end of next season. Now that's what you call dominant.