Milwaukee Brewers: 15 Greatest Pitchers in Franchise History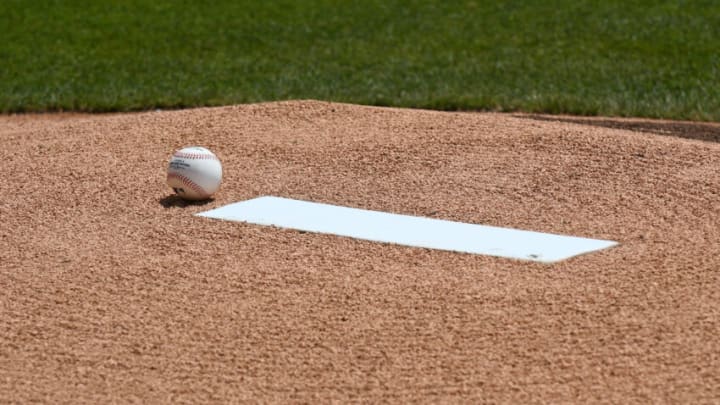 DETROIT, MI - JULY 30: A detailed view of an official Major League baseball sitting on the pitchers mound next to the rubber prior to the start of the game between the Detroit Tigers and the Houston Astros at Comerica Park on July 30, 2017 in Detroit, Michigan. The Tigers defeated the Astros 13-1. (Photo by Mark Cunningham/MLB Photos via Getty Images) /
MILWAUKEE, WI – CIRCA 1989: Dan Plesac #37 of the Milwaukee Brewers pitches during a Major League Baseball game circa 1989 at Milwaukee County Stadium in Milwaukee, Wisconsin. Plesac played for the Brewers from 1986-92. (Photo by Focus on Sport/Getty Images) /
Here is a ranking of the 15 greatest pitchers in Milwaukee Brewers franchise history.
4. LHP Dan Plesac
7 seasons, 29-37, 524.1 IP, 12.0 bWAR, 3.21 ERA, 1.232 WHIP, 133 saves
After Fingers moved on from the Brewers, the closer's role ultimately ended up being handed over to a young lefty named Dan Plesac. Once all was said and done, he would leave Milwaukee having taken over the club's career saves mark from his predecessor.
After opting not to sign with the Cardinals as their 2nd round pick out of high school in 1980, Plesac, then pitching for NC State University, would be picked 26th overall by the Brewers in the 1983 draft. His debut would come in 1986 a year after Fingers' final MLB season.
Plesac would grab 14 saves in his first season and would put up a 2.97 ERA and 1.209 WHIP, setting the tone for the rest of his Brewers career. The next three seasons would see the southpaw reach three consecutive All-Star games.
Plesac would put up sub-3.00 ERAs in five of his seven seasons in Milwaukee and his 3.21 career ERA is currently the best mark in team history. He also leads all Brewers pitchers in career appearances with 365, just one more than the workhorse Jim Slaton.
On top of all that, Plesac still sits as the most accomplished Brewers closer in team history in terms of saves, having compiled 133 in his seven seasons. That record could fall in the next season or two, but it was still quite the long run for Plesac at the top of the list.
3. RHP Yovani Gallardo
8 seasons, 89-64, 1289.1 IP, 18.3 bWAR, 3.69 ERA, 1.303 WHIP, 3 saves
After so many down years in the 90s and early 2000s, the Brewers' resurgence finally came in 2008 and 2011 when the team finally made their first playoff appearances since 1981 and 1982. Yovani Gallardo was there leading the pitching staff into that new era.
Gallardo was a 2nd round draft pick by the Brewers out of high school back in 2004. He made his debut in 2007, winning nine games in 20 appearances (17 starts). His 2008 season was off to an even better start as he gave up just four runs in his first three games, but an injury caused during a play at first wiped out most of that season.
Thus 2009 is when Gallardo really stepped forward as the team's ace. He would start 30+ games for each of the next six years, making an All-Star appearance in 2010, finishing 7th in NL Cy Young voting in 2011, and earning five straight Opening Day starts from 2010 to 2014, second most of any Brewers pitcher ever and the most consecutive such starts in team history.
Gallardo's run for Milwaukee in the 2011 ALDS was one for the ages. After earning the win in game one by giving up just a run on four hits and a walk while striking out nine in eight innings, he came back out in game five and gave up a single run yet again, this time in a six-inning outing that kicked off the dramatic winner-take-all win.
Besides being one of team's top pitchers in team history, Gallardo was one of the best hitting pitchers ever as well. He has the most doubles, homers, RBIs, and runs scored of any hurler the team has ever had.
Gallardo finished his career as the with the 8th highest pitchers bWAR (15.5) in franchise history and the 5th highest ERA (3.69). But when it comes to pitchers, fans love the strikeouts and Gallardo is tops for Milwaukee all-time in both career strikeouts (1226) and K/9 (8.558).