Milwaukee Brewers: 15 Greatest Pitchers in Franchise History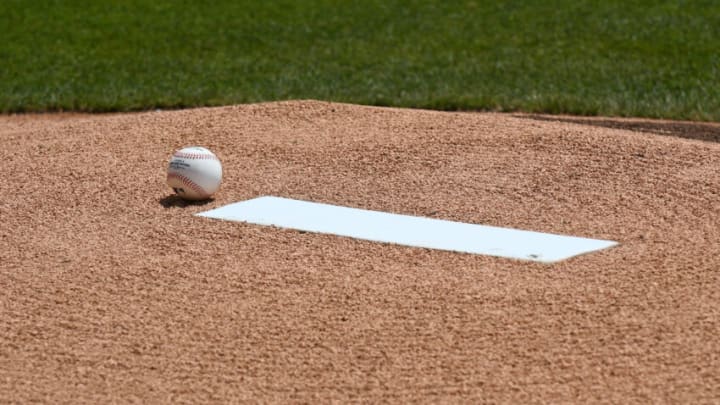 DETROIT, MI - JULY 30: A detailed view of an official Major League baseball sitting on the pitchers mound next to the rubber prior to the start of the game between the Detroit Tigers and the Houston Astros at Comerica Park on July 30, 2017 in Detroit, Michigan. The Tigers defeated the Astros 13-1. (Photo by Mark Cunningham/MLB Photos via Getty Images) /
MILWAUKEE, WI – APRIL 11: Teddy Higuera #49 of the Milwaukee Brewers pitching to the Chicago White Sox on April 11, 1990 in Milwaukee, Wisconsin. (Photo by Ronald C. Modra/Getty Images) /
Here is a ranking of the 15 greatest pitchers in Milwaukee Brewers franchise history.
2. RHP Ben Sheets
8 seasons, 86-83, 1428 IP, 22.8 bWAR, 3.72 ERA, 1.201 WHIP
It's hard to imagine that there is more of a "What If" pitching candidate than Ben Sheets in Milwaukee Brewers history. Even with his injury history he goes down as one of the team's top pitchers ever, but what if he had remained healthy his entire career?
Sheets was the 10th overall pick for the Brewers in the 1999 draft. Even before he reached the big leagues he had a pedigree of excellence, helping Team USA capture the gold medal in the 2000 Summer Olympics when he led the team to victory by pitching a shutout in the championship game.
Sheets would make his debut the following year. Though his Milwaukee tenure started a little rocky with a 4.76 ERA and 1.414 WHIP, he would make the first All-Star game of his career as a rookie.
He would make his next All-Star appearance in 2004, the best season of his career. That year he would set career marks with a 2.70 ERA, a 0.983 WHIP, and 264 strikeouts, still a single-season Brewers record. He would also finish 8th in NL Cy Young voting that season.
His finest moment of season would come in a May 16th game against the Atlanta Braves. That day, Sheets would strikeout 18 batters over nine innings, destroying the previous club record held by Moose Haas and tying for the 13th all time in MLB history.
Unfortunately, that's when the injuries started taking their toll. Sheets wouldn't make more than 24 starts in any of the next three seasons. Though he would start 31 games in the team's 2008 playoff run, he would tear a ligament in his elbow at the end of the year, preventing him from pitching in the postseason and, after becoming a free agent ahead of 2009, wiping out all of that season as well.
Injuries aside, Sheets is second all-time in pitchers bWAR (25.6) and strikeouts (1206) and leads all Brewers hurlers in career strikeout to walk ratio (3.853). His BB/9 (1.215) and K/BB ratio (8.25) in 2004 also stand as single-season franchise records.
1. LHP Teddy Higuera
9 seasons, 94-64, 1380 IP, 30.3 bWAR, 3.61 ERA, 1.236 WHIP
We've finally reached the top of our list and the award for best pitcher in Brewers history goes to one from the late 80s/early 90s era. Left-hander Teddy Higuera burst on to the scene as a rookie in 1985 and went on to compile quite a resume.
In his rookie 1985 season, Higuera went 15-8 with a 3.90 ERA, 1.173 WHIP, and 127 strikeouts to 63 walks in 32 games (30 starts), adding two shutouts. That performance was enough to help him finish 2nd in AL Rookie of the Year voting, just behind the White Sox's Ozzie Guillen.
Higuera would get even better in 1986, winning 20 games and putting up a 2.79 ERA and a 1.208 WHIP and earning an All-Star appearance. He would finish second to the legendary Roger Clemens in the AL Cy Young voting as well as 15th in AL MVP voting.
Higuera would put up 18 more wins and a career-high 240 strikeouts his following season on his way to a 6th place finish in CY Young voting as well as 16 more wins the year after that as he led the AL in WHIP (0.999) that year.
Injuries began to limit him after that, including a completely missed 1992 season, with Higuera making 81 more appearances over the next six years. Still, by the end, Higuera would finish with the best career bWAR in Brewers history as well as three of the top five single-season bWARs for a Milwaukee pitcher as well.
Higuera's ERA and wins each place third all-time on the Milwaukee leaderboards while his WHIP places sixth. He was inducted into the Mexican Professional Baseball Hall of Fame and is the only pitcher on this list besides Hall of Famer Rollie Fingers who is on the Brewers Walk of Fame outside American Family Field in Milwaukee. That's what helps name you the best pitcher in Milwaukee Brewers history.
Is your personal Greatest Brewers Pitchers in Franchise History list close to this one? Let us know and stay tuned for when we take a look at the greatest Brewers hitters next!