Brewers: Christian Yelich Should Keep Leading Off When Wong Returns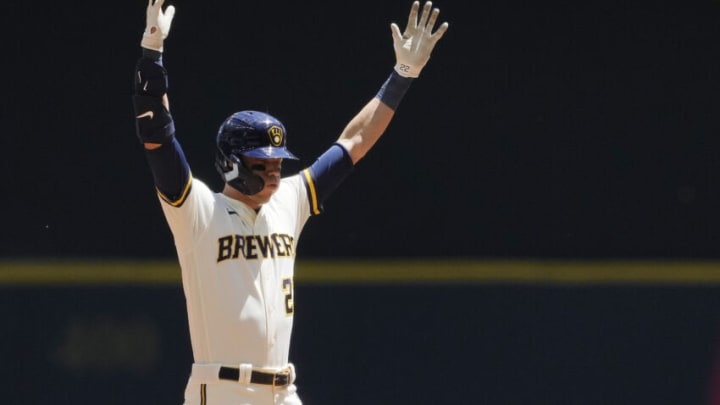 MILWAUKEE, WISCONSIN - JUNE 23: Christian Yelich #22 of the Milwaukee Brewers reacts after hitting a double against the St. Louis Cardinals in the first inning at American Family Field on June 23, 2022 in Milwaukee, Wisconsin. (Photo by Patrick McDermott/Getty Images) /
It may not be exactly what most Brewers fans were envisioning when the season began, but it's better than they were getting for a while.
It's no secret that Christian Yelich hasn't lived up to fans' expectations the last couple of years. After winning the NL MVP in 2018 and then nearly repeating in 2019, the superstar with the long-term contract has seen a big drop in production ever since.
In his first season coming off his 2019 knee injury, Yelich saw his batting average plummet to a career low .205 and his strikeout rate spike to a career high 30.8%. Last year, the average came back up somewhat (.248), but his slugging (.373) and OPS (.736) hit new career lows as he battled back injuries throughout parts of the season.
After two down seasons, fans were looking forward to a possible breakout for Yelich in 2022. But despite a brief stretch where he was looking like his old self in late April and early May, the former MVP was slashing just .224/.316/.363 (.679 OPS) through his first 54 games of the season with nine doubles, five homers, and a 25.1% strikeout rate.
In that 54th game, it just so happened that the team's leadoff hitter for a majority of the season, second baseman Kolten Wong, left the game early and would eventually be placed on the injured list. The next day, partially out of fit and partially out of necessity, Yelich would be moved from his normal three spot in the lineup up to the leadoff position.
Based on results since the move, Christian Yelich should keep leading off for the Brewers even after Kolten Wong returns.
Yelich started off slow in his first game in the leadoff position, though he did pick up a single while going 1-for-4. He picked up steam from there, however, collecting multiple hits in each of his next three games and ultimately pushing his hitting streak to eight games while batting leadoff and nine games overall.
Going into today's game against the Cardinals, Yelich was slashing .288/.344/.407 (.751 OPS) in 14 games with 10 runs scored, tied for most on the team during that stretch. Then earlier today, he got on base another three times on the back of a double and two walks while scoring the game's first run.
Wong should be returning from the IL any day now. And when he does, the Brewers would be best served to continue allowing Yelich to occupy the leadoff position.
Yelich profiles well as a leadoff hitter. He is one of the smarter baserunners in the league, often taking extra bases when other runners wouldn't. He also definitely has the speed usually associated with the position. Not only does he have a 30-steal season under his belt, but he has also stolen 10 bases already this year without having been caught.
Wong was a solid leadoff hitter for the Brewers in 2021, getting on base at a .337 clip and hitting 14 home runs while kicking off games for the Crew, the most leadoff homers he'd hit in a season in his career.
He was off to a bit of a slow start of his own this season before his injury, though. As a leadoff hitter specifically, Wong had a .310 OBP with five home runs and 22 runs scored in 37 games. He was also ceding leadoff duties to Andrew McCutchen at times.
Going forward, it could actually make a lot of sense to drop Wong to the nine hole in the lineup. He could then almost serve as a leadoff hitter at the bottom of the lineup and then potentially get on base in front of Yelich.
And if Yelich eventually returns to his MVP form, the Brewers can always return him to his run-producing three spot in the lineup. But with the team at times struggling on offense, why pull a player from a position that's allowing them to actually be productive?
Reviewing The Brew /
Want your voice heard? Join the Reviewing The Brew team!
The Brewers kick off a home series against the Toronto Blue Jays tomorrow. Hopefully, that first game features a Kolten Wong return and a lineup featuring Christian Yelich at the top.