Milwaukee Brewers: Minor League Affiliate Recap for 7/26 to 7/31
There was plenty going on in the Brewers Minor League system over the course of the last week as the team's affiliates got to play their first full week of games since the shortened series coming out of the MLB All-Star break.
There were promotions, rehab assignments, and even crazy walk-offs. Here we dive into the last week of action.
Here is a Milwaukee Brewers minor league affiliate recap from the dates July 26th to July 31st.
Triple-A Nashville Sounds (59-39)
The Sounds are coming off yet another series win that officially improved their record to 20 games over .500 to 59-39, taking four games out of a six-game series against the Charlotte Knights.
They began the series with a 5-2 victory behind the power of Brewers No. 5 Prospect per MLB Pipeline, shortstop Brice Turang as he slugged his sixth bomb. He was followed by middle infielder Mark Mathias who hit his eighth homer of the season.
Brice Turang, again!
The No. 5 @Brewers prospect blasts off for the second time in three games for the @nashvillesounds. pic.twitter.com/r3JuneP6kp

— MLB Pipeline (@MLBPipeline) July 27, 2022
Brewers pitcher Justin Topa made his first rehab appearance, one of many taking place down in Nashville, as he pitched one scoreless inning in his first outing back since Tommy John surgery.
The bats stayed hot on Wednesday as the Sounds cruised past the Knights with a 12-5 win. Although he got a bit roughed up, Caleb Boushley continued his great season as he improved to 10-2 on the year.
With the scoring slowing down in the following game's 3-1 victory, Topa had himself another rehab appearance, pitching one inning and giving up a hit and a walk, though he grabbed the win altogether.
Friday night's game was filled with excitement as Nashville had another late-game comeback in a 4-2 win. More importantly, Brewers reliever Jake Cousins made his first outing coming off of injury where he pitched an inning giving up two hits, a run, a walk, and striking out two.
Starter Freddy Peralta also made another rehab appearance where he went three and a third innings, striking out five and giving up five hits and a run.
The Knights finally got to the Sounds as they beat them 7-5 Saturday night in a game where Josh Lindblom had another rough outing, giving up nine hits, two runs, and two walks in five innings. Topa made another outing, going an inning giving up one run on one hit and a walk.
The Sounds ultimately dropped the series finale after a strong five innings from No. 10 prospect Ethan Small as he went five innings striking out five and giving up a run.
Double-A Biloxi Shuckers (46-48)
The Shuckers aimed to make it two straight series wins last week, and they did just that, taking four out of six against the Montgomery Biscuits. In game one of the series, Brewers outfield prospects Sal Frelick (No. 2) and Garrett Mitchell (No. 4) added to their hot summers with two-hit nights while both of them hit a home run in on their way to a 5-3 victory.
In game two, starting pitcher T.J. Shook did his best to fend off the Biscuits as he went six and a third inning, allowing two hits, two walks, and two runs along with tallying four strikeouts in a 3-2 Shuckers defeat.
After the tough loss, the Shuckers came back out and got one back as they cruised on by 6-1 led by the long ball. Mitchell notched his fourth on the season while Tristen Lutz and Thomas Dillard also each hit one over.
Friday night was a bit of a shootout for both teams as the Shuckers just squeezed by the Biscuits 10-9. The offense was led by Frelick who gathered three hits in four at-bats, as well as drawing two walks and scoring two runs along with two RBIs. The Biscuits got their revenge a night later as they powered by the Shuckers 9-4.
In the finale on Sunday night, the Shuckers and Biscuits found themselves in the 11th inning after a stellar outing by No. 26 Brewers prospect, RHP Victor Castenada. With the bases loaded in the bottom of the 11th, Andruw Monasterio unloaded one over the wall to send everyone home, along with taking the series for the Shuckers.
🚨 WHAT'S BETTER THAN A WALK OFF??? A WALK-OFF GRAND SLAM BY @ajmonasterio16!!!!! 🚨 pic.twitter.com/n2bdZhbEeY

— Biloxi Shuckers (@BiloxiShuckers) August 1, 2022
High-A Wisconsin Timber Rattlers (50-45)
The Timber Rattlers' pitching struggled to hold anyone down throughout the week as they dropped the series to the Midwest League West Division-leading Cedar Rapids Kernels, winning only two of the six games played.
However, before the series began, they got a huge boost as Milwaukee's No. 1 prospect Jackson Chourio, was promoted to the team after smashing down in Single-A.
Chourio picked right back up where he left off with the Mudcats. In his first six games with the Timber Rattlers, he went 6-for-24 at the plate, slugging at a .500 rate and putting up a .870 OPS.
In game one of the series against the Kernels, Chourio went 2-for-4 and collected a double, walk, and an RBI. No 18 Brewers prospect Zavier Warren smashed his sixth home run of the season but the Timber Rattlers lost the opening game 10-4.
In game two, Chourio did more of the same, going 2-for-5 and scoring a run of his own as well. The Timber Rattlers losing woes continued, though, as they dropped that contest 7-4 and also game three 6-2, despite outhitting the Kernels in that third game.
The Timber Rattlers snapped their losing streak on Friday behind a great outing from Justin Jarvis. He went six innings, giving up one hit, two walks, and striking out eight as the team won 4-0. The top of the order provided most of the damage offensively as Chourio made it four straight games since his promotion with a hit.
The Timber Rattlers got another one the following night as after a rough couple of innings, Antoine Kelly was able to settle down and go four strong striking out six along the way to a 7-6 win. Warren hit his seventh bomb of the year, while Chourio hit his first home run in High-A extending his hitting streak to five.
JACKSON CHOURIO GOES DEAD CENTER FOR HIS FIRST HIGH-A HOME RUN!! pic.twitter.com/YYu6ZxgjaP

— David Gasper (@dgasper24) July 30, 2022
The T-Rats dropped the final game of the series 9-2 behind yet another rocky outing by the starting pitching. On top of that, Chourio snapped his hitting streak as well. The Timber Rattlers are taking on the South Bend Cubs for six this week.
Low-A Carolina Mudcats (48-48)
After looking strong and taking the first two games of the series vs Fayetteville, the Mudcats dropped the next three games before taking the series finale in extra innings. This was the first series the Mudcats have gone all season without Chourio in the lineup.
Without their most powerful bat, that didn't seem to take away much from an offensive standpoint as in game one they gathered seven hits on seven runs. The same thing happened in game two where they gathered the same amount of hits and runs.
In the following three games, which happened to be their losses, they scored a combined four runs during the outings, but those are largely due to the big pitching duels that went on (5-1, 2-1, and 3-2).
In the final game of the series, the Mudcats took Fayetteville to 10 innings as they were able to pull ahead in the 10th and seal the 5-4 victory. The Mudcats return home this week as they set sail to take on Kannapolis in a six-game series.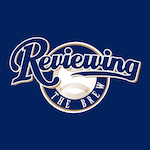 Want your voice heard? Join the Reviewing The Brew team!
Write for us!
Stay tuned for next week's edition of the Brewers Minor League recap!