What Is The Brewers "Type" Of Pitching Prospect They Like To Target In MLB Draft?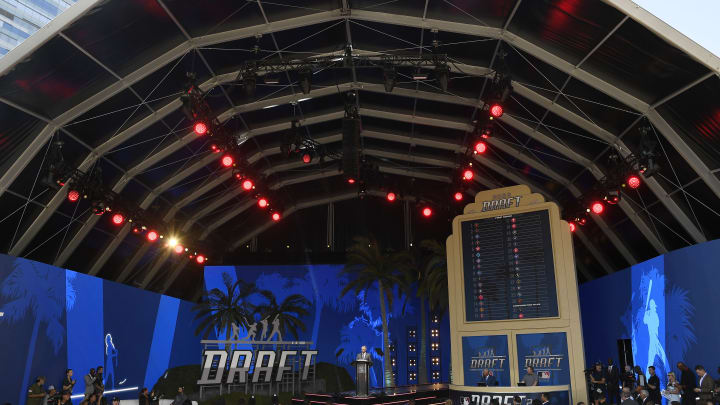 2022 MLB Draft / Kevork Djansezian/GettyImages
The 2023 MLB Draft is coming up fast. The Milwaukee Brewers hold the 18th overall pick in the first round and have three of the first 54 selections. They will make 21 total picks in this year's Draft.
As the Draft approaches, we will take closer looks at potential prospects the Milwaukee Brewers could select in the first round and beyond.
In order for us to better prepare you for the Draft and better understand which direction the Brewers might go, we need to understand what their preferred type or mold of prospect is in the Draft. What are the traits they tend to target in players? What traits do they avoid?
Let's take a look at what the Brewers like to target in pitching prospects in the MLB Draft.
The Brewers have a history of targeting pitchers in the MLB Draft with these three traits.
When it comes to pitching, the Brewers also seem to have a type of player they like to target. The Brewers have been a factory for pitching development in recent years, turning aces out of 4th round pick Corbin Burnes and 11th round pick Brandon Woodruff as their most successful examples.
The Crew's pitching lab is on the cutting edge of pitching development and the Brewers know what they're good at developing. They target players with the traits they know they can develop and refine. These are the traits they like to target.
1. Advanced feel for spin
2. Elite athleticism
3. Deceptiveness
Corbin Burnes was able to go from struggling starter to a Cy Young winner within two years because of his advanced feel for spinning the baseball. His cutter, his slider, his entire arsenal was rebuilt and it was successful because of his ability to put and manipulate spin on the baseball. Jacob Misiorowski, the Crew's top pitching prospect and 2nd rounder last year, has high spin rates on his triple digit fastball as well as his breaking stuff. Logan Henderson, 4th rounder in 2021, has high spin rates. Aaron Ashby? You guessed it, lots of spin. If you can spin the ball well, the Brewers will be interested.
Much like the hitters, athleticism for pitchers goes a long ways. It's easier to make adjustments to your delivery if necessary and stay healthy if you're extremely athletic. Aaron Ashby is super athletic, but his funky delivery hampered his command, but he's been able to harness that with minor changes because of his athleticism. Athletic pitchers can also more easily add velocity if needed. Misiorowski, Henderson, Russell Smith, Carlos Rodriguez, Will Rudy, and Tyler Woessner all qualify in this category of athletic pitchers. That's every Brewers pitcher drafted in the first 6 rounds the last two years.
Deceptiveness is another major part of the Brewers pitcher profile they look for. Deceptive deliveries or pitches that play up because the hitter can't pick it up due to tunneling or spin make a pitcher so much more successful. Deceptiveness comes in many shapes and sizes. Jacob Misiorowski is deceptive because he's 6'7" and all arms and legs coming at you with 100 MPH and less time to see it because of his extension. Logan Henderson is just 5'11" and has deceptive stuff because he tunnels his changeup perfectly with his fastball.
The Brewers don't have a specific body type they target. They can be all over the board. They can go from long and lanky like Misiorowski at 6'7", 190 pounds to tall and built like Russell Smith at 6'7", 255 pounds, to prototypical size like Tyler Woessner at 6'4", 230 pounds, to small and compact like Logan Henderson and Carlos Rodriguez, around 5'11"-6'0" and approximately 200 pounds. As long as they can exhibit a feel for spinning the baseball, deceptiveness, and athleticism in their delivery, the Brewers will be interested.
A bonus trait to consider is being a college arm, specifically a junior college arm. The Brewers have selected one or more of the top junior college pitchers in the first two days of every draft going back to 2017. They love JuCo arms and have had a lot of success with them. Look for them to target their favorite JuCo arm that fit their criteria within the first few rounds in this year's draft.