Milwaukee Brewers: Jonathan Villar a mixed bag by the numbers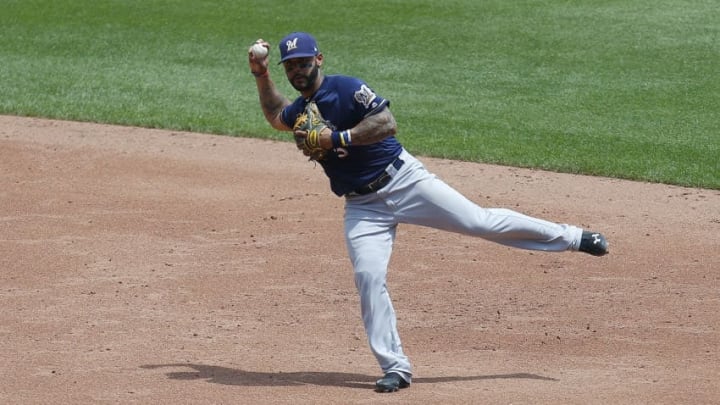 PITTSBURGH, PA - JULY 20: Jonathan Villar /
Disappointing is just one word to describe Jonathan Villar's follow up to his breakout 2016 season with the Milwaukee Brewers.
While Eric Sogard was out with an injury, Villar found himself a temporary starting role in the Milwaukee Brewers infield.  But with Sogard back there will be more of a platoon role.  To his credit, Villar had a very professional reaction to it according to MLB.com, "I'm OK. That's my job, to be ready for everything."
Manager Craig Counsell commented on Villar's stretch of play in that same article.  He essentially says it is hard to make a massive impact by hitting groundballs to the opposite field.  Counsell has a very good point, and he went on to talk about his walks being down.
""I'm OK. That's my job, to be ready for everything." -Jonathan Villar"
Villar has shown slow and steady monthly improvement, but nothing substantial yet.  His batting average by month, though, has gone from .217 to .243 to .246 so far in July.  There has even been an eight game hit streak in the month.  He isn't setting the world on fire, but he has to get back to form somehow.
The difference in that same stat from the 2016 season to this point in 2017 is not encouraging at all however.  He has dropped from a .285 to a .223.
So what goes into a drop off like that?
The first number to point at is the ten percent increase in strikeout rate between the two years.  That is one huge factor.  But, conversely to that Villar has increased his walk percentage by about two percent.  While not a massive increase, it tells me he is working counts more, which could be a small factor in the strikeout rate.
What is probably the biggest factor is the rate at which Villar is chasing pitches out of the strike zone.  A number that stood at 24.1 percent in 2016 has inflated to almost touching 30 percent.  Naturally, this season is the highest swing percentage of his career.  Villar is swinging at just over 47 percent of the pitches he sees.
That type of free swinging increase makes him susceptible to the increase in breaking pitches he has seen this season.  Fangraphs, who has provided all this data so far, shows a significant increase in two pitches being used against the Milwaukee Brewers speedster: Curveball and Slider.  Increased swing, plus increased break, equals increased whiffs.
Numbers are great, but it can be hard to decipher what they all mean.  If you really look into Villar's season, it turns out to be more of a mixed bag than expected.  By no means is it good, but by the same stretch it is not a wash either.
There has been solid play at the plate in July that suggests he could be on the way back.  Out of the 19 games he has played, he has gotten a hit in 12 of them.  While only three have been for extra bases, they fact he is hitting the ball in encouraging.  We all know what Villar on base is capable of, and getting the bat on the ball will help tremendously.
It will be interesting to watch that second base battle.  Sogard has been playing well and deserves a majority of starts.  But if there are more injury problems or he hits a huge slump, Villar could very well swoop in to take over the starting spot.
The thing is that they are not the only two guys to play second.  If all else fails, Henan Perez can slide in for his shot as well.  And prospect Mauricio Dubon is starting to show he is ready for a shot with the Milwaukee Brewers as well.
Next: Minor league makes history
All in all, I am not ready to say that Villar should be given up on.  Yet, at least.  He is still showing signs of life in the 2017 season, and to lose hope for him is a mistake.  Mark my words, Villar is on the rise.