Milwaukee Brewers: Neil Walker Is Exactly What This Team Needs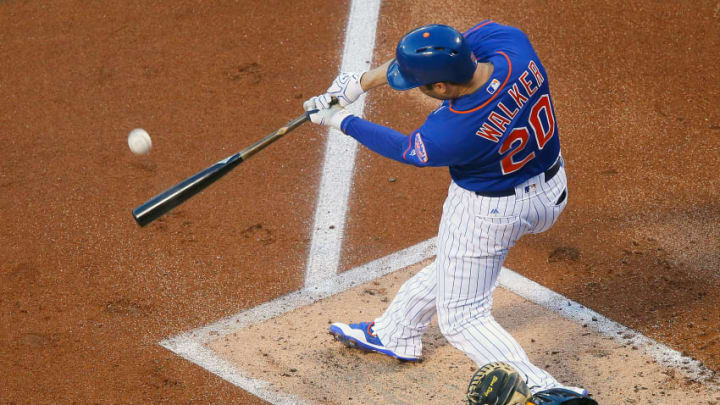 NEW YORK, NY - JUNE 03: Neil Walker /
Although John argued that the Milwaukee Brewers should stand pat this August, David Stearns must not have listened, acquiring Neil Walker from the New York Mets.
The second base issues have gotten worse these past weeks since the All-Star break. Eric Sogard is hitting .108 since the break and Jonathan Villar, who has hit well in the past few days, has struggled this year. Milwaukee Brewers GM David Stearns has decided it was time to make a change.
Rather than promote Mauricio Dubon, Stearns adds Neil Walker from the Mets. Walker hasn't done much offensively since his return from the DL about two weeks ago, but he'll still provide value.
Brewers fans likely know Walker from his days as a Pittsburgh Pirate. He had some success in Milwaukee with a .286/.332/.534 slash line and 11 home runs at Miller Park during his career. Hopefully that will continue the rest of this season. And it's likely only going to be the rest of this season.
Walker is 31-years old and is a free agent at the end of the year. He's going to test the market this off-season as the Brewers aren't going sign him to a long term deal. The Brewers still believe in Villar, plus Dubon should be ready to get a chance to start in 2018 and Keston Hiura could rise quickly as well.
Although his bat could only be a marginal upgrade at second base, he'll provide valuable experience to the Brewers. On a team short on veterans and long on young rookies, Walker provides postseason experience and leadership. He will fit in well with the Milwaukee Brewers' clubhouse culture. That cultural fit is vital to any acquisition Stearns' makes this year.
With the reputation as a good clubhouse guy and the fact that he's in a contract year, Walker is going to want to impress right away with his new club. That can only mean good things for the Brew Crew. Walker can also play multiple positions, including third base and first base, so he adds versatility as well. Also, he's a switch-hitter and can bat anywhere in the lineup.
As for who is the 'player that will be named later', don't expect any news on who it is anytime soon. The Mets will have a few players to choose from and are going to scout those players through the rest of the Minor league season. They will decide who they want during the winter. The teams have six months to complete the deal.
The Brewers are unlikely to surrender a highly regarded prospect. It's likely going be a low-level prospect in A-ball that none of us have ever heard of. Our top 30 list is safe. Don't worry.
Watching the Milwaukee Brewers offense struggle to score these last few weeks has been nothing short of frustrating. The Brewers needed to try to fix this offense with outside help, even though they've come to life over the past two games.
Walker can provide a spark to this team and get the winning juices flowing again. The recent walk-off win has taken the Crew out of their losing streak and is a good first step to getting back on track.
The Brewers are two games behind the Cubs, but the Cardinals have jumped ahead of them thanks to an eight-game winning streak. The Redbirds are tied with the Chicago for the division lead.
The veteran leadership and experience that Walker provides will only add to the value his bat can deliver. The reason for the struggles lately are attributed to inexperienced players not knowing how to deal with a playoff push. After all, players are only human, no matter how invincible they seem to pressure.
Next: What Does Chase Anderson's Return Mean For The Brewers?
Neil Walker will join the team in time for Sunday's game. The Milwaukee Brewers haven't surrendered their playoff push yet and the move for Walker proves it. While the move for Walker doesn't guarantee the Brew Crew will make the playoffs, it ensures that they're in for one wild month and a half.