Milwaukee Brewers: Predicting the First Major Transaction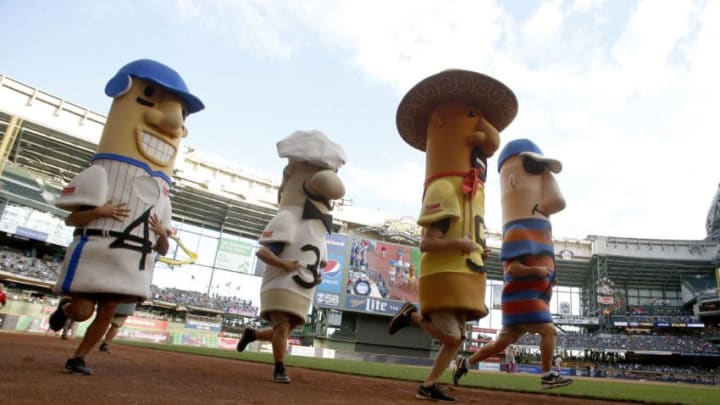 MILWAUKEE, WI - SEPTEMBER 28: The Racing Sausages race during the sixth inning in the game between the Cincinnati Reds and the Milwaukee Brewers at Miller Park on September 28, 2017 in Milwaukee, Wisconsin. (Photo by Mike McGinnis/Getty Images) /
In the last few days, the Milwaukee Brewers have finally become, somewhat active. The hometown nine have made three signings in as many days.
The Milwaukee Brewers signed four pitchers, one familiar face, Yovani Gallardo. One is a new face, Jhoulys Chacin. Both are MLB deals. They inked lefty Mike Zagurski and Erik Davis both to minor league pacts.
What will be the Milwaukee Brewers first major off-season move? Going by recent speculation on Twitter.  The Brewers have been linked to the Kansas City Royals since the beginning of the winter meetings.  Milwaukee is searching for "top tier" starting pitcher options and the Royals do have southpaw Danny Duffy. They also have an up and coming second basemen a name you have seen a lot of on Reviewing the Brew as of late. He goes by the name, Whitt Merrifield.
Another potential move that could bolster Milwaukee's rotation is costly. The Crew might put together a package that would convince the Tampa Bay Rays to move Chris Archer or Jake Odorizzi. The only major question facing Milwaukee would be if they are willing to deal one of Lewis Brinson or Domingo Santana.
What Options are still available via Free Agency?
There are other options out there that don't need to come via trade, but one favorite route G.Ms love to take is via free agency. There are still plenty of big names out there. Alex Cobb, Lance Lynn, Yu Darvish and Jake Arrietta to name a few. Anyone of these players would drastically improve Milwaukee's starting five.
History does show that the Milwaukee Brewers are not afraid to spend money on a big arm. They have not had the best luck either when inking them to a major deal.
In the past couple of years, Milwaukee has made two notable (pitching) free agent signings. Kyle Lohse to a three year 33 million dollar deal, and most notably the Matt Garza deal of four years at fifty million dollars. Both pitchers came from division rivals.
Going on what we already know. What will be the Milwaukee Brewers first transaction? We here at Reviewing the Brew asked you, the fans, what you though and the poll is in!
The readers believe by a big margin that the Milwaukee Brewers first major transaction will be…A trade for Chris Archer!
Next: Rays Unlikely To Trade Archer?
We will just have to wait and see how accurate these predictions turn out to be.