Milwaukee Brewers: Quiet Off-Season Preserves Future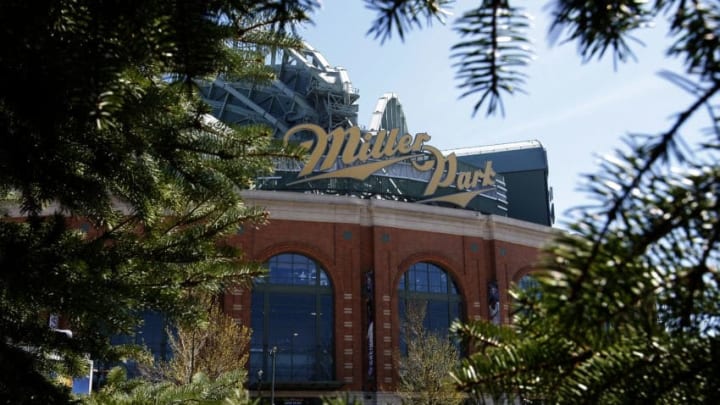 MILWAUKEE, WI - APRIL 06: A general view of Miller Park on Opening Day before the St. Louis Cardinals play against the Milwaukee Brewers on April 06, 2012 in Milwaukee, Wisconsin. (Photo by Mike McGinnis/Getty Images) /
While fans may be upset heading into 2018 if the Milwaukee Brewers don't further improve the starting rotation, the franchise is heading in the right direction with low-risk moves.
The hot stove has been quite cold for the Milwaukee Brewers so far this winter.  With no major league signings or trades during the winter meetings, David Stearns decided against taking risks that could endanger the future.  This week, Milwaukee made their first major off-season moves for Yovanni Gallardo and Jhoulys Chacin. Neither move garnered major praise.  Several at Reviewing the Brew hate the Chacin deal.
Names like Chris Archer, Yu Darvish, Jake Arrieta and Danny Duffy have all been floated as pieces the Brewers could consider this off-season via trade or free agency.  These names are flashy, but come with a steep price.  Each of these players would improve the 2018 ball club.  However, there are several reasons why not spending big this off-season is Milwaukee's best course of action.
The 2017 Brewers Overachieved
When a team that is projected by almost every analytical outlet to win less than 80 games and wins 86, it's realistic to believe the team could regress.  Other than Ryan Braun and Jonathan Villar, none of Milwaukee's starting fielders had truly established a role in the majors prior to 2017.
Travis Shaw was only in his second full season and first as a full-time starter.  Domingo Santana had his first full healthy season.  Jimmy Nelson, Chase Anderson and Zack Davies had career years in the rotation.  While the bullpen showed flashes, Josh Hader only pitched half a season and Corey Knebel was in his first year of closing.
Adding a major piece for 2018 would give the Milwaukee Brewers slightly more stability in the rotation, but what if the other members regress?  Filling one hole won't plug other issues that may arise off the mound.  A low risk addition like Chacin, who also was analytically sound according to Adam McCalvy, gives the Brewers options in future years.
The Brewers' Year is 2019
A closer look at the Chacin contracts gives a clue towards where David Stearns thinks the Brewers are headed.
By front-loading the deal with Chacin, the Brewers will be in position to lock up internal stars while saving money for the loaded 2018-19 free agent market.  Arbitration years and a year or two of free agency could be bought out for Domingo Santana, Lewis Brinson, Brett Phillips and Orlando Arcia if they play at a high level.  A Brewers payroll of $80 Million or less in 2018 would allow for safer splashes when the team is truly ready to compete. This is important considering that…
The Brewers Can't Spend Like the Cubs, Dodgers or Yankees
Baseball isn't a fair game.  While revenue sharing allows small-market clubs to play more evenly, it doesn't mean the Brewers can afford major free agents without massive risk.  Zack Greinke's deal with the Diamondbacks is one such example. His massive contract weighs down the team's spending on the team's other holes.  If Milwaukee spends big and it turns out poorly, the team may not recover for several years.
The Brewers best course of action is to cheat the system with analytics as the 2002 Oakland A's famously did.  Let the Yankees, Cubs and Dodgers spend $20 Million per year on one player.  They can assume that kind of risk.  The Brewers cannot.  It's going to take a group of talented prospects and key analytical additions for the Brewers to earn a world championship.
Next: Penny Pinching Won't Win NL Central
David Stearns knows what the Milwaukee Brewers franchise is and what it isn't.  It's that type of inward thinking that will allow for sustainable success.  It's fun to think about flashy additions, but the risk is too high for the reward.   The 2018 campaign may be disappointing, but it sets up the Brewers for sustainable success in 2019 and beyond.