Milwaukee Brewers: Penny Pinching Will Not Win the NL Central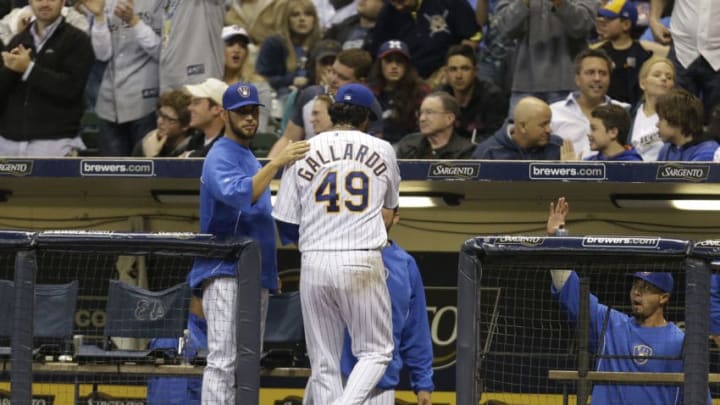 MILWAUKEE, WI - APRIL 12: Yovani Gallardo /
The Milwaukee Brewers are in a very crucial time in their division. With the young talent they possess, they need to decide on the future.
Without any true big names, besides a part time Ryan Braun, the Milwaukee Brewers were able to compete in the division. However, this offseason GM David Stearns is hesitating on making that jump into serious contention.
Stearns, who without question makes brilliant moves, is not doing what is necessary to dethrone the Cubs and hold off the Cardinals. There are two ways to penny pinch, and he seems content doing it on both fronts.
It's All About the Money
Reports came out saying that Stearns did not want to give Anthony Swarzak 14 million over two years. He was a very key part of that late season run. Instead Stearns goes out and signs a couple of questionable arms. A Yovani Gallardo return, and a welcoming of Jhoulys Chacin.
Neither of which are going to take this team to the next level. They will barely, if only partially, fill the shoes of Jimmy Nelson. The offseason is still young, but is not off to a very promising start.
I am not suggesting Stearns blow a bunch of money on a guy. That is how Matt Garza happens. But to pony up and give Swarzak what he wants is not too much to ask. It was a two year deal. Wasting money would be giving Jake Arrieta a massive contract.
Can't Forget The Farm
Prospects are the other penny pinching method. These guys are more difficult because predicting who will become a superstar is nearly impossible. But there are guys like Marcos Diplan who are expendable. Why not be willing to part with a few prospects to get a front of the line rotation arm?
Granted, the price tag on Chris Archer would be enormous. But, there are rumors beginning to swirl about Marcus Stroman. And of course, we here at Reviewing the Brew like the idea of Danny Duffy.
It would be worth letting some of the endless talented outfield prospects, or even a low end pitching prospect, go in order to fill a need. It is not ridiculous to believe it would help the team in the long run.
Be Careful
This is not a suggestion to trade and buy willy nilly. Stearns can still calculate his moves. I am simply suggesting that if a trustworthy set up guy wants two extra million on his contract, give it to him. The Milwaukee Brewers had the lowest payroll in the league last year. They can afford to spend just a little bit.
It is also not worth spending a guy like Lewis Brinson to bring in Duffy just because the team needs a top end starter. That is not worth it at all. But letting go of a Diplan, Trent Grisham, or Kyle Wren wouldn't kill the teams future.
Why Risk Spending?
First of all, there is a lot of talent on the team. But there were a lot of breakout performances that might not be repeated to full capacity. We saw Eric Thames drop off in the second half. I hate to say it, but who is to say Domingo Santana will be as consistent with the bat again? Everyone, even Jonathan Villar needs to be at top potential.
The Cubs and Cardinals are making moves. Tyler Chatwood shores up the Chicago rotation. And of course the blockbuster trade in St. Louis for Marcell Ozuna. They are preparing for a start studded battle.
While the Milwaukee Brewers have the talent to compete without the big names, it would be nice to have that reliable name on the mound every five days. It is the best way to compete with the division rivals who are saying they want to win now.
Next: Looking Backon the Greinke Trade
If Stearns decided to hold off another year to let his core players develop, that is fine. But if he wants to win now, there needs to be one move that makes a splash. And penny pinching for Gallardo and Chacin are not what is needed.