Milwaukee Brewers: Q&A With Troy Stokes Jr.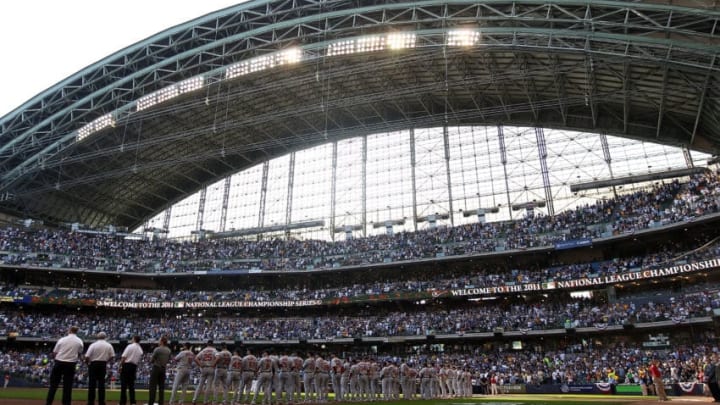 MILWAUKEE, WI - OCTOBER 09: General view as the St. Louis Cardinals stand attended for the National Anthem before Game one of the National League Championship Series against the Milwaukee Brewers at Miller Park on October 9, 2011 in Milwaukee, Wisconsin. The Brewers defeated the Cardinals 9-6. (Photo by Christian Petersen/Getty Images) /
Among all of the young talent roaming the outfield for the Milwaukee Brewers is Troy Stokes Jr.
Recently, we did a profile on Stokes, labeling him as an under the radar prospect for the Milwaukee Brewers. Over two levels during regular season play, he stole 30 bases and hit 20 homers. A potential 20/30 player is a solid player.
At Reviewing the Brew, we see a lot of potential in Stokes. If he continues to grow, he will be in the outfield conversation. At minimum, he will be on the radar very soon. That is why we were thrilled when he agreed to answer a few questions for us.
Q: I wanted to start by asking you about your transition to the pros. Coming out of high school, you hit .262 in your first season. What helped you achieve that immediate success?
Troy Stokes Jr.: "It's kind of funny that you say 'immediate success.' Because being 18, coming out of high school, I honestly didn't think that was good back then. I had never hit under .300 before then. Now that I am a little older, and have some more years under my belt, I understand that it wasn't. I think that was very vital to my learning.
Learning how to struggle that first year helped me out, and actually brought my average up too. A few weeks before the end of the season I was around .220-.230. People coming out of high school straight to pro ball have to know there is a learning period. And a period where you learn how to fail."
Q: Along with learning how to fail, your power stroke is coming along nicely as well. A career high collective 20 homers in 2017 makes you an intriguing power and speed threat. How have you been able to add power to your game?
Troy Stokes Jr.: "Well, I always knew I had a little power, more power than what other people thought. So last offseason, I messed around with different hand positions and figured out I got more leverage when I started my hands lower. I would stay a little under my shoulder. That was physically. And mentally, although I'm a speed guy, I told myself in hitter's counts, I'm trying to drive the ball in the air, not just on the ground or in a gap."
Q: We saw earlier that Monte Harrison gave you an endorsement in response to our original post about you. How important are those kinds of relationships while moving through the ranks of the farm system?
Troy Stokes Jr.:" I think the relationship I have with Monte is very important moving up through the ranks, not only for baseball but for life in general. We're playing ball for up to seven months out of the year, so it's important for me to be close with some of the guys. I feel like it's only natural. It's like lifetime friendship building.
On the baseball side, I know Monte and I push each other. That goes with everyone. I'm close with a lot of the guys from my Mudcats team last year and I'll say with a lot of us being similar in age, we all kind of push each other to be better. Whether I'm doing good or bad, we are all pulling for each other."
Q: After starting the year with Carolina, you made two jumps and ended up with Colorado Springs. But the Triple A time came in the postseason. Was that intimidating, getting your first taste of the level in a postseason setting?
Troy Stokes Jr.: "Not really, I wouldn't say it was intimidating. I was just excited to be up there. To experience how the older guys approached the game was a great experience! It was also weird but in a good way, I was just happy that I was able to contribute a little bit when I got in the game."
Q: Switching gears, when you were growing up, did you model your game after speedy outfielders? Who were your idols growing up?
Troy Stokes Jr.: "People always ask me this, and to be honest I didn't really model my game after anyone. I kind of just went with what felt comfortable. I looked up to the normal big name guys, but I didn't model myself after them. Being a natural Orioles fan growing up (being from Baltimore), I liked Jeff Conine. I don't know why but he was my favorite Oriole."
Q: Just a couple more, were you always an outfielder or did you have dreams of playing a different position?
Troy Stokes Jr.: "When I was younger, around middle school age, I wanted to be a pitcher. I still think the most fun position in baseball is to be a closer. With that being said, I have been an outfielder since around 13. It's all I ever played in high school, so it kind of changed as I got older to dreaming about playing center field in the big leagues."
Q: Last question, as our post said, you are "flying under the radar" from a fan's perspective. Is that something that can inspire you to play better or is it a complete non-factor?
Troy Stokes Jr.:" I feel like for me, it's definitely a factor. You have to be able to block out all the outside noise so you stay focused on the goal, but this is something I think everyone pays at least a little bit of attention to. And I feel like it's a good thing in my position. Being overlooked makes me grind even more! It gives me a little extra push, you know."
Next: Roundtable: The Ideal Infield
A big thank you to Stokes for taking the time to answer a few questions for us. With his growing power, and obvious speed, he will be able to provide a different set of tools than some of the other players in the Milwaukee Brewers organization.