Milwaukee Brewers: Klement's out, Johnsonville in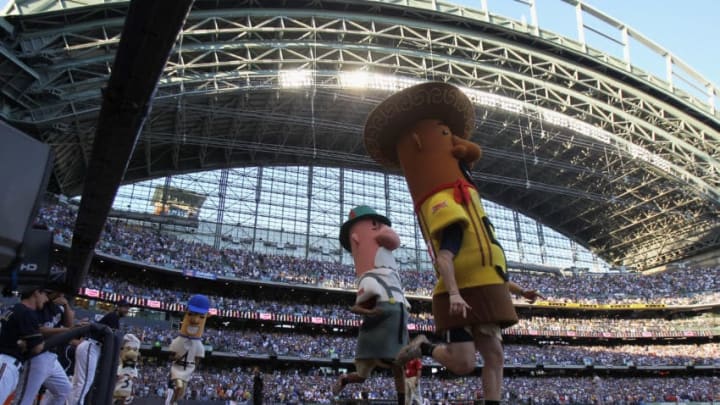 MILWAUKEE, WI - OCTOBER 09: The Chorizo /
Move over Klement's, there's a new sausage in town. The Milwaukee Brewers have announced a new partnership with Johnsonville to supply sausages for the 2018 season and beyond.
After more than 20 years, the Milwaukee Brewers have ended their partnership with Klement's. However, have no fear Brewers fans, the sausage race will still be happening every home game. The difference this season will only be the name.
Baseball and hot dogs go hand in hand, and there is no better dog than a stadium dog. The flavor of that dog may be changing for 2018, but the quality won't be. Miller Park has amongst the best dogs in all of baseball, with Johnsonville, it will be no different.
This is far from important breaking news, but news nonetheless. As we wait for Yu Darvish to decide his future, at least we won't have to speculate on the future of the best in-game promotion in all of Major League Baseball. However, Klement's CEO Tom Danneker didn't sound seem pleased with Milwaukee's decision.
""Unfortunately, the Brewers abruptly and without explanation cut off our negotiations. To our surprise, weeks later the Brewers informed us that they signed with another undisclosed company, and we would not have the opportunity to match the deal or negotiate.""
Klement's Sausage Co. is a locally founded and well-respected company. After 25 years of partnership, it's hard to blame Danneker for feeling so strongly. However, as he said earlier in the interview, "Alas, all good things come to an end".
The end always brings a new beginning and that beginning is Johnsonville Foods. A locally founded, nationally known brand, Johnsonville is no stranger to sponsorships. However, the product on the field is a greater concern than the product in the concessions. Either way, the concessions at Miller Park are still a key part of the stadium experience. They're just going to have a different name in 2018.
Next: Lewis Brinson Cracks Top OF Prospects
Let's face it folks, this is Wisconsin. We like our beer. We like our cheese. But we love our brats. Whether you enjoy one with a bun or without one, it's always part of going to a ballgame. The only difference this year, it'll be Johnsonville and not Klement's.